Metro's Measure J Would Speed Up Transit Projects, Bill Taxpayers Through 2069
Proponents say the measure would speed up job creation and construction on long-planned transportation projects, but opponents call it a "blank check"
http://www.nbclosangeles.com/news/local/Measure-J-Los-Angeles-County-Metro-Transportation-Tax-Election-November-175664021.html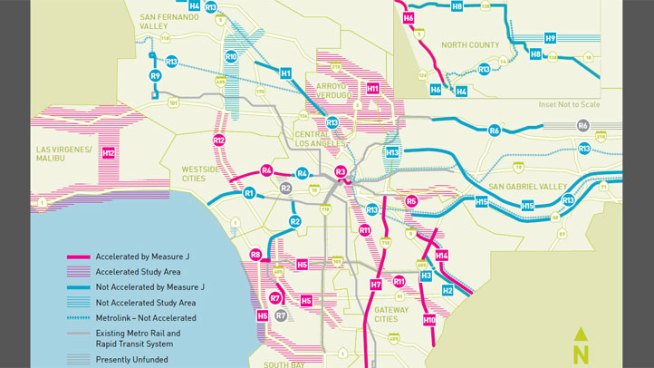 Metro says its Measure J would speed up transportation projects listed in pink by allowing the agency to take out loans earlier and begin work within five years, instead of 20, as originally planned.
| Wednesday, Oct 24, 2012 | Updated 4:21 PM PDT
Metro wants Los Angeles County residents to pay a half-cent sales tax for 30 extra years so the agency can more quickly complete work on a bevy of promised transportation projects, while taking advantage of current low interest rates and reduced construction costs.
Measure J, which requires approval of two-thirds of voters Nov. 6, would extend by three decades the nearly identical Measure R, approved by voters in 2008. The latter measure is now set to expire in 2039.
The proposed tax extension is intended to speed up construction of expanded rail lines, and freeway and street improvements that were planned under Measure R, and it's being sold as a measure to reduce traffic and create jobs.
Work would start within five years instead of 20, as originally planned.
Proponents of Measure J cite an analysis from the Los Angeles Economic Development Corp. (
PDF
) stating the Measure J would acclerate hiring for more than 400,000 new local jobs.
"Voters across the county agree that everyone benefits from traffic relief; everyone benefits when we put people to work," said Matt Szabo, a former LA deputy mayor and now executive director of the campaign's
Yes on Measure J
Committee for Jobs and Traffic Relief.
Opponents call the measure a "blank check" that would shift the financial burden of transportation projects to a future generation, with the tax hike set to continue until 2069. And they dispute the jobs figures, while arguing the list of projects benefits the city of LA more than other areas.
"It's very LA city-centric," said Tony Bell, spokesman for county Supervisor and Metro board Chairman Mike Antonovich, who opposes Measure J and opposed Measure R. "We have 88 cities and unincorporated areas … They're not getting their fair share."
Szabo disputed that, noting projects in the South Bay and San Gabriel Valley.
The measure would create no new projects, but a list of projects promised in Measure R would be accelerated.
Those include
:
Green Line extension to LAX and through the South Bay
Gold Line extension farther east into the San Gabriel Valley
The Westside Subway Extension
A still-undetermined rapid transit option through the Sepulveda Pass
The Regional Connector, which will link the Blue, Expo and Gold lines
Improvements to the 5, 91, 110, 405 and 605 freeways
Some projects depend on federal funding for completion - a fact that's been highlighted by critics of Measure J.
Proponents of the sales tax extension say the security of revenue in the future will allow Metro to take out bonds now at lower interest rates and not begin paying them back till 2039.
"We will be able to advance these projects at an extraordinarily low cost," Szabo said.
County supervisors Michael Antonovich and Don Knabe oppose the measure, as does LA City Councilman Bernard Parks.
They're joined by the Bus Riders Union, which has disapproved of Metro's emphasis on rail, and the Beverly Hills school board, which battled with Metro over safety concerns about the Westside Subway route.
Supporters include a coalition of business, environmental and labor groups, with LA Mayor Antonio Villaraigosa – the self-described "transportation mayor" – as a champion.
Measure J is projected to cost an average of about $25 per person annually, and is expected to generate some $90 billion between 2039 and 2069, according to the Los Angeles County Metropolitan Transportation Authority.
It was polling close to the two-thirds vote margin, according to a Yes on J internal poll released in September. Measure R passed with 67.9 percent of the vote in 2008.