Will LA's "Westsiders" Ever Take the Train?
http://citywatchla.com/lead-stories-hidden/4745-will-la-s-westsiders-ever-take-the-train
By Lou Siegel, March 22, 2013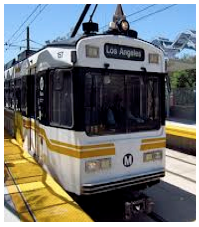 THE CITY
- A few years ago, the Los Angeles Times solicited readers input in
mapping the region's neighborhoods
. Defining the so-called "Westside" became very contentious, particularly in determining the eastern border. Some residents insisted that La Cienega was the dividing line, though the winner, by popular demand, was the "405."
When I moved to Southern California in 1981, I had to accept that people here position themselves – by location and even class – in relation to the freeways. And though I wanted to live near the coast with easy access to downtown, I couldn't quite see myself as a "Westsider."
Finally settling in the Mar Vista, Palms, Culver City cluster (CC is its own "municipality"), my ties to the neighborhood grew stronger when my kids went to the local schools and played at nearby parks and little league fields. The parental connection made me feel more at home but – like many other areas in sprawling LA – my part of town was also developing its own pedestrian-friendly boutique business district.
Culver City's hippified restaurant row
followed this trend toward more intact and compact communities in suburban Southern California. But neighborhood identity requires more than just a few well-placed coffee shops – and now there's a new geographic designation in the making.
Just up the road at Venice and Robertson is a soon-to-open train station. A bridge under construction across the eight lane boulevard will connect to Phase II of
the Expo Line from downtown to Santa Monica
.
Sure, it's only "light rail" but it's West LA's first trolley since
the Red Car
shut down in 1950.
Having a local train station recalls for me the old
BMT line through Bensonhurst
which stopped every few minutes above 86
th
Street at Bay Parkway to deliver thousands of workers to and from "the city." In intensely compressed Brooklyn, New York's subway system – sometimes elevated, sometimes subterranean – divided and defined the borough's neighborhoods.
If you've lived in Boston, Chicago, Philadelphia, San Francisco or anyplace in the states or abroad with big-time mass rail transit, you might – as you pass these new bridges or crossings – wonder whether Expo and the other LA Metro train lines have a real shot at attracting riders.
We won't know this for a while. In the meantime, enjoy the fact that West LA (or whatever it's called) is getting a train. It will give us at least one more way – besides which freeway ramp to get off – to describe where we live.