http://abclocal.go.com/kabc/story?section=news/local/los_angeles&id=9266138
September 28, 2013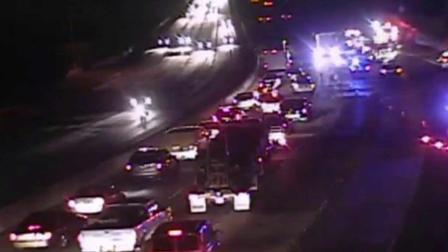 A big rig accident caused delays on the southbound 5 Freeway near Paramount Boulevard in Downey for several hours Saturday, Sept. 28, 2013.
DOWNEY, Calif. (KABC) --
A big rig overturned in Downey Saturday snarling traffic on the southbound 5 Freeway for several hours.
The accident occurred near Paramount Boulevard and shut down all but one lane around 4:30 a.m.
CHP officials said the collision involved a vehicle versus big rig and left the big rig on its side.
All lanes were reopened around 7 a.m.
No injuries were reported.
The cause of the accident remains under investigation.