http://abclocal.go.com/kabc/story?section=weather/wildfire_center&id=9259628
September 24, 2013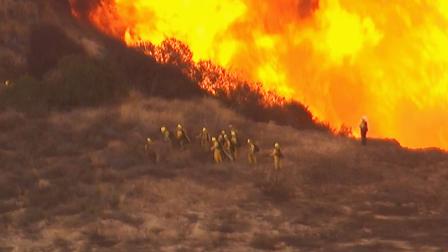 AZUSA, Calif. (KABC) --
Evacuations have been lifted, but firefighters are still battling a brush fire burning in the Angeles National Forest near Azusa.
As of 6:30 a.m., the blaze, dubbed the Madre Fire, has burned 200 acres and was 5 percent contained.
Three homes on Foxtail Court were evacuated Monday night, but those evacuations have since been lifted, according to the U.S. Forest Service. Fire officials said there was no immediate threat to residences and structure protection was established around 25 other homes out of precaution.
The fire is moving west over a ridge away from those homes. Those residences should be out of harms way, unless the winds shift during the day.
The blaze ignited around 6 p.m. Monday. Los Angeles firefighters called in their water-dropping super-scoopers and helicopters to battle the flames.
"It was crazy, there was smoke everywhere. I was scared at first and then it started to go over the ridge and went away and I was like, 'Oh, we're in the clear.' Now the wind is shifting, so I don't know what's going to happen," said Sarah Brehm, an Azusa resident.
Another resident, who is originally from Boston, said he's not used to seeing wildfires and the whole scene caught him off guard.
"I couldn't tell you the feelings that were going through my head. I've never seen anything like this," said Shawn Miltimore. "Being from Massachusetts, we see a car fire and that's a big thing. When I come home and I see the whole canyon on fire, I was freaking out."
Azusa Canyon and Highway 39 north of Foothill Boulevard are closed to all traffic. So far, no homes have been damaged and no one has been injured.