Thursday, October 31, 2013
http://streetsblog.net/2013/10/31/the-data-changes-but-the-state-dots-traffic-projections-stay-the-same/
By Angie Schmitt, October 31, 2013
The above graphic comes to us today from Network blog
Strong Towns
by way of the
Sightline Institute
. It shows the Washington Department of Transportation's traffic projections for State Route 520, across Lake Washington.
You might say the state's traffic projections are completely out of touch with reality. The graphic comes from
a 2011 post
from Sightline's Clark Williams-Derry, who does a masterful job explaining how state DOTs justify billions of dollars in public spending on bad projects:
An essay by philosopher Harry Frankfurt, first published in the mid-1980s but re-released in book form in 2005, offered what was perhaps the first serious analysis of a topic near and dear to any political observer's heart: bullshit. Frankfurt argues that bullshit differs from lies in one important way. The liar believes that there IS such a thing as the truth: it's the thing that the lie is designed to conceal. In contrast, a bullshitter has no regard for the very idea of truth. To a true bullshit artist, words are little more than a tool to achieve some arbitrary purpose — to seem informed, for example, or to manipulate other people so that they'll do what you want them to. Whether words are true or false is beside the point; all that matters to the bullshitter is the effect that his or her words achieve.
Here's an example of a misleading point made by WSDOT: "Traffic generally rose annually since 1984, until… the middle of the 2000s." It was easy for Williams-Derry to refute:
Ungrammatical, but still B.S. WSDOT's Annual Traffic Report found year-over-year traffic declines in 1993, 1996, 2000, 2001, 2002, 2004, 2005, 2006, 2007, and 2008. WSDOT's Ramp and Roadway Report is only released every other year, but found biennial declines in 1990, 1992, 2000, 2002, and 2008. Similarly, the Seattle DOT reports data only for 1996 through 2004, but found year-over-year traffic declines in 1997, 1999, 2000, 2002, and 2004. In short, traffic generally rose annually until the middle of the 1990s, after which came a mixture of slight increases and slight decreases, depending on which year and which data source you look at.
State DOTs are still using models that are hard wired with these made-up projections. Without smart watchdog groups like Sightline, it's hard to know whether a state DOT's numbers are worth the paper they're written on.
Elsewhere on the Network today:
BeyondDC
considers the best way to lift Washington's height limit.
The Naked City
reports the Charlotte region is trying to rezone a car-oriented street into a transit corridor. And
Stop and Move
shares a particularly odious example of "leap frog" development.
Wednesday, October 30, 2013
European countries are exploring new ways to fund public transport
http://www.theguardian.com/public-leaders-network/2013/oct/30/europes-transport-innovations-private
By Bjorn Hasselgren, October 30, 2013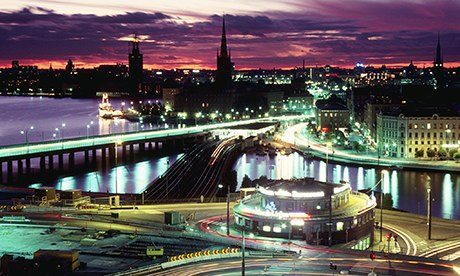 The UK, Sweden and Germany each fund their transport infrastructure in different ways.
Innovation must be applied to
transport
infrastructure systems, such as roads and railroads, if we are to meet future challenges.
Since the mid 20th century roads and railroads have been managed by governments in most European countries. Funding has been dominated by fuel taxes and taxes on vehicles. Railroads have been heavily subsidised with general tax revenues while road traffic has more or less paid its costs through the taxes.
In some Eur
opean countries roads have been organised as private corporations with government concessions, but in general that has been the exception. But this seems to be changing fast.
Lately transport infrastructure investments and buzz-words like sustainability and livability have been on the lips of politicians and corporate leaders. In a time of financial austerity transport infrastructure is seen as both a way out of the crisis and as a problem – how to
finance
and how to adjust to the new
technology
that is coming online.
The introduction of IT-based solutions is making information on capacity more accessible than before. Vehicles and infrastructure will also become able to communicate in the future. Suddenly new methods to reduce congestion, to improve safety and limit environmental impact seem to be within reach.
The development and use of more fuel efficient vehicle technology must also be taken into account. Electric vehicles and alternative fuels to gas and diesel are gaining market shares. This in turn introduces a threat to traditional government funding: fuel tax suddenly erodes. And governments must look either for cost-savings or alternative sources of revenue.
A
new report
for the Swedish Ministry of Finance's expert group on public economics shows that the UK, Sweden, other Nordic countries and Germany have chosen different ways to handle the new situation. The UK seems to be among the most innovative having launched a road reform earlier this year, which aims to introduce an independent more business-like organisation for roads.
The Nordic countries, except Sweden, are experimenting with public-private partnerships
, fee funded projects and toll-financing. Norway is introducing an extensive toll programme for local and regional roads, and the government is open for additional partnerships. Denmark is experimenting with a number of fee-financed tunnel and bridge projects in separate government corporations and new financing from oil-industry taxes. Finland has set up an inquiry to look into the introduction of GPS-based road-charging. Germany has used public-private partnerships for its large motorways.
Sweden seems decoupled from many of these current trends. Even if congestion charging has been introduced in Stockholm and Gothenburg, in addition to some fee-funded motorway sections, government-managed and tax-financed transport infrastructure is still the dominant model.
The report concludes that there are many interesting signs of an increasing innovation rate in transport infrastructure. And there are different ways of handling the challenges. This industry might once again become a driver for increased productivity and change, as in earlier periods of growth and creative destruction.
http://www.nytimes.com/2013/10/30/automobiles/from-china-to-los-angeles-taking-the-electric-bus.html?_r=0
By Todd Woody, October 29, 2013
BYD's eBus, shown in Los Angeles, can run 155 miles on a charge and has led to contracts with transit agencies in Los Angeles and Long Beach.
LOS ANGELES — THERE'S a newcomer to this city's auto row. Compared to the shiny showrooms displaying the latest Mercedeses and Toyotas, the Chinese carmaker BYD's outpost in the shadow of downtown skyscrapers looks rather forlorn.
Just two of its models — a red electric sport utility vehicle and a brown gasoline-powered sedan — are on view in an otherwise empty storefront.
But it's the pair of 40-foot-long battery-powered buses parked across the street that is driving the company's ambitions to become the first Chinese automaker to break into the United States market.
BYD this year became the first Chinese vehicle company to open manufacturing sites in the United States, building an electric bus assembly plant and a separate battery factory in Lancaster, a desert community 75 miles north of Los Angeles.
The $30 billion company beat American competitors to win contracts to build electric buses for transit agencies in Los Angeles and nearby Long Beach. BYD is also pursuing deals to supply electric shuttle buses to rental car agencies, amusement parks and Silicon Valley technology companies.
In New York, the Metropolitan Transportation Authority began a two-month road-test of BYD's battery-powered eBus in September.
"Buses are on the street and highly visible, so it's a good way to get our name out there and build our reputation," said Brendan Riley, BYD's vice president for fleet sales, at the Los Angeles showroom.
"Once transit agencies work with BYD and understand BYD is going to take care of them with their bus fleets, we'll get them to try our
electric cars
," he added.
BYD first came to Americans' attention in 2008 when the billionaire investor Warren E. Buffett
bought 10 percent of the company
, convinced that it would dominate
China
's electric car market.
Founded in 1995 as a mobile phone battery manufacturer, BYD has grown into a conglomerate that makes cars, buses, energy storage systems, solar panels, LED lighting and phones. Like other Chinese automakers, BYD has benefited from loans from state-owned banks and contracts to supply its electric vehicles to Chinese municipalities.
The company has sold electric cars in China since 2008 but is moving cautiously into the American market. Mr. Riley said BYD was mindful of Chinese cars' reputation for poor quality and of Hyundai's disastrous United States debut in 1986, when the South Korean company began selling a poorly built compact car that ruined its reputation for years.
"We do not want to have missteps," said Mr. Riley.
To that end, this year BYD began selling a small number of
its e6 electric S.U.V.'s
in the United States, but only to corporate fleets. The company has also placed the e6 with companies as demonstrator models. It has no plans to export its gasoline-powered models to the American market.
The $52,000 e6 is powered by an iron phosphate battery that BYD says gives the car a range of 186 miles on a charge, compared with around 75 miles for most other electric cars available in the United States.
"You don't really want to bring a car into a market that is not properly supported," said Mr. Riley. "When you sell cars into fleets you can co-locate engineers and parts."
BYD has sold the e6 to taxi fleets in China, Britain and South America, and Mr. Riley expects it to pursue a similar strategy in the United States.
For now, the company's challenge is proving it can manufacture its $800,000 eBus in the United States and meet federal standards for durability and safety. It recently suffered a setback when a bus being tested at a federal facility in Pennsylvania suffered cracks in its frame. And in October
California officials fined
the company $99,245 for violating state labor laws; the company said it would appeal the ruling.
The first buses, which have a range of 155 miles on a charge, are set to roll off the Lancaster assembly line later this year to fulfill contracts with transit agencies in Los Angeles and Long Beach.
California has adopted regulations that will require 15 percent of municipal bus fleets to be powered by low-carbon alternative fuels. That prompted the Los Angeles County Metropolitan Transportation Authority in June to award BYD a $20.7 million contract to supply up to 25 electric buses.
Richard Hunt, the agency's head of bus procurement, said the range and size of the eBus and the fact that BYD had deployed more than 700 of the vehicles worldwide persuaded Los Angeles to take a chance on a relatively unknown Chinese company. To hedge its bets, the agency placed an initial order for five vehicles and will evaluate them before buying additional eBuses.
"These are expensive vehicles, and we don't want to make costly mistakes," Mr. Hunt said. "But we do think electric buses are the way to go for the environment."
Though the eBus costs roughly twice as much as a conventional diesel bus, Mr. Riley of BYD said the eBus could pay for itself in three years because of savings in fuel and maintenance.
A Long Beach Transit spokesman, Kevin Lee, said his agency was receiving $7.4 million in government grants to offset the $12.1 million cost of 10 eBuses it ordered. He said the lower operating cost of the electric bus and its ability to run all day on a single charge persuaded the city to take a chance on BYD.
Mr. Lee noted that the bus's 324 kilowatt-hour battery — for comparison, the e6 S.U.V. has a 61.4 kilowatt-hour battery — and its ability to return electricity to the grid mean it could be a rolling generator of power in blackouts.
BYD's Southern California factory also represents a foothold into another potentially lucrative market: energy storage.
California, for instance, will require the state's big utilities to operate 1,325 megawatts of energy storage to help balance the power grid as more sources of renewable but intermittent energy come online.
In a partnership with the home builder KB Home, BYD has developed home battery systems to store electricity generated by rooftop solar panels, and it plans to package its bus batteries into huge units capable of storing large amounts of electricity.
"We really see California adopting this technology sooner than anyone else," said Mr. Riley.
http://dc.streetsblog.org/2013/10/30/state-dots-boldly-request-a-blank-check-to-build-more-highways/
By Tanya Snyder, October 30, 2013
Want your state DOT to support safer, multi-modal local streets? You can dream, but don't dare tell them what to do.
"This is a money and power grab."
"It's very disappointing and very AASHTO."
That's how some transportation reformers are describing the American Association of State Highway and Transportation Officials'
new recommendations
for the next surface transportation bill. The current bill, MAP-21, expires in less than a year.
AASHTO's proposal is "so mired in protective technical-speak that it'll fail to inspire anyone outside of state DOT technical staff — which I guess just sees 'more money' and that's all they care about," vented Deron Lovaas of the Natural Resources Defense Council upon seeing the document.
AASHTO's recommendations boil down to one thing: less local control and more power at the state level. They want to wrest control over transit funds from transit agencies. They want more "flexibility" on every front. They want less distribution of funds to officials at the city or regional level — a move Lovaas calls "regressive" since "more and more people, businesses and jobs are becoming centralized in metro areas."
MAP-21's one real achievement, a provision allowing some degree of local control over funds for biking and walking, gets targeted in AASHTO's wish list. AASHTO complains that states aren't eligible for this relatively tiny pot of money, and demand to get their hands in the cookie jar that's closed to them.
What's more, Lovaas noted, AASHTO boldly resists any form of accountability. The association insists that no additional performance measures be implemented until the new ones from MAP-21 can be amply tested out. And yet they want to go full throttle with their agenda to accelerate "project delivery" — basically making an end run around environmental and community scrutiny.
Indeed, AASHTO is positively allergic to performance measures. They want to make sure states aren't required to fix infrastructure that's in the worst condition first, though they don't explain why any other approach would make any sense. Over and over again, they affirm their "steadfast opposition" to "using performance measures as the basis for apportioning or allocating federal funds among the States" — in other words, having any mechanism whatsoever to ensure that they don't spend billions of dollars on wasteful projects.
Above all, AASHTO says over and over that "the implementation of MAP 21 [and any subsequent bill] should avoid any unnecessary administrative burdens or unnecessary restrictions on State flexibility." Translation: Hand over a blank check. Nowhere does AASHTO say how it intends to improve the transportation system, meet national goals like greater safety or environmental sustainability, or be more accountable to the public. They don't even bother to explain the expected outcomes of their recommendations. The list is nothing but "give us the money and go away," in the words of David Burwell, transportation analyst at the Carnegie Endowment.
The document came out just days before a special Congressional panel on freight issued its recommendations. In it those recommendations, the panel notes that U.S. DOT is currently designating a National Freight Network, which will consist of 27,000 centerline miles of existing roadways, "with the option of expanding this limitation by no more than 3,000 additional centerline miles." But AASHTO wants to go beyond that 3,000-mile cap. They don't want Congress or U.S. DOT to determine how much more to build, though — they, of course, want that to be up to the states, like everything else. "This would allow states to ask for more federal money in the name of 'key commerce corridors' and 'critical rural freight corridors,'" Burwell said, "both more excuses for adding more lane miles to the system at a time VMT is declining."
Unbelievably, AASHTO also makes a grab for what's historically been federal authority to determine whether projects conform with the Clean Air Act. While one state — California — has been awarded authority to do its own environmental reviews, that's only because that state's environmental regulations are more stringent than federal ones. The blanket request for all states to have the authority to regulate themselves on environmental protection is alarming.
Perhaps not surprisingly, AASHTO's section on safety doesn't breathe a word about people walking and biking. Instead, the states again ask for more "flexibility" to focus on safety when and where they want. Oh, and AASHTO says it's too restrictive to ask states to implement graduated drivers licenses, even though all 50 states have some version of a GDL system.
AASHTO does have some good ideas. They want permission to remove from the National Highway System a lot of arterial roads that were automatically designated NHS under MAP-21. NHS designation means the road is treated as a highway, and can make it harder to install bike and pedestrian designs or traffic calming.
Another good recommendation is their suggestion to allow states to fund any non-NHS bridge on the federal-aid highway system under the National Highway Performance Program (NHPP) — an arcane-sounding request that would help free up Surface Transportation Program money, which is one of the pots of funds that's most available to bike and pedestrian projects. The additional burden of non-NHS bridges in the STP program in MAP-21
threatened to squeeze out
these other important projects.
They also want Congress to remove the cap on states using Congestion Mitigation and Air Quality money for transit operations — which has been limited to three or five years. But they also want to narrow the requirement that states spend CMAQ money on their intended purpose, saying that should only be required if states' non-attainment of air quality goals is specifically the result of transportation activities.
But essentially, with this document the state DOTs are asking for money with no strings attached in the next go-round — and undoubtedly they're hoping their message will be heard deep within the ranks of U.S. DOT, where they're currently working out the details of MAP-21′s performance requirements. And why wouldn't AASHTO have high hopes that their demands will be heard? Sen. Barbara Boxer has been clear that
she looked to AASHTO for guidance
every step of the way in crafting MAP-21, and indeed, one would think AASHTO had gotten
everything it wanted
out of that affair — if it didn't now have a list of so many more demands.
NOV. 4 JW MARRIOT LA LIVE! GRID Logistics Inc. will be showcasing and presenting its freight solutions to modernize our ports, eliminate freight trucks from freeway travel to and from the ports, all while improving air quality, and creating jobs for the Southern California Region!



Cleantech LA Global Showcase 2013Speakers Include:Eric Garcetti, Mayor City of Los Angeles Ron Nichols, General Manager, Los Angeles Dept. of Water and Power Farshid Arman, Ph.D. Director, Energy Technologies SIEMENS
http://thesource.metro.net/2013/10/30/customer-survey-results-for-2013/
By kridlerm, October 30, 2013
Metro's Research and Development team has been gathering and analyzing data on Metro bus/rail users since 2003. The annual customer satisfaction survey was implemented to help inform transit planners and division managers of overall customer satisfaction, on-time performance, cleanliness, safety, as well as track demographic shifts in Metro ridership.
This year's survey showed positive trends with regard to customer views on bus on-time performance, cleanliness of stations, median income of riders and an increase in bike usage as a means of getting to a stop/station.
One statistic of interest is the continued increase in cell phone, specifically smartphone, access (see the charts below). Services such as Metro.net, the Go Metro App, and Google Maps are able to provide more transit users up to the minute information regarding Metro services. If you are one of the 47 percent of Metro users without a smartphone and/or you speak another language, don't worry — Metro will continue to provide information in the traditional way.
RELATED POSTS: Compare this year's results to last year's survey.
x
http://la.streetsblog.org/2013/10/30/40-of-expresslane-funds-will-go-towards-bicycle-and-pedestrian-improvements/
By Damien Newton, October 30, 2013
Projects such as Carson's bike plans may be funded by ExpressLanes.
When Metro first proposed converting HOV Lanes to congestion pricing lanes where drivers could choose to pay cash for a congestion free trip, some politicians and news paper columnists were outraged. Some where so
outraged at the "Lexus Lanes" they worked tirelessly to get them moved somewhere else
. Others were so outraged they
wrote research-free opinion columns
standing up for all of the poor people that wouldn't be able to buy in to the toll lanes every day.
Those people were nowhere to be found last week when the Metro Board of Directors
advised staff to allocate roughly 40% of toll funds for bicycle and pedestrian projects
, injecting literally millions of dollars into the systems surrounding the ExpressLanes on the I-10 and I-110.
"Bike paths and walkways are important components of the ExpressLanes project, and the communities along the Harbor and Santa Monica Freeways—where the pilot project is in place– will see the benefits of the projected $16 million to $19 million in revenue," writes County Supervisor and Metro Board Member Mark Ridley-Thomas. "The guidelines for reinvesting these funds take a holistic view of transit."
After the federal government granted enough funds to Metro to dramatically increase bus service along the freeway corridors impacted by ExpressLanes, the program now has direct benefits for the car-free and transit dependent. Some of whom have even less fiscal means than the car owners being defended by hysterical politicians and out-of-touch newspaper columnists.
And the representatives of the areas that are seeing the benefits of ExpressLanes are ecstatic.
"It's wonderful to see Metro invest toll revenue in local communities," writes Lauren Grabowski, the HEAL (Healthy Eating Active Living) Project Manager for Connecting Carson, the City of Carson's Active Transportation Plan.
"Carson City Council has already approved of a bike plan which identifies projects that can connect Carson residents and workers to two I-110 Express stations, Carson Station and the Harbor Gateway Transit Center. But finding funding is always a challenge. Developing these projects will encourage people to use the Metro Express Buses on the I-110 as well promote community healthy through increased physical activity and cleaner air. It's a win-win."
Carson City is located just on the I-110 Corridor. Similar enthusiasm can be found along the I-10 ExpressLanes corridor.
"Although the San Gabriel Valley is in the midst of developing a regional bicycle master plan, funding for projects is always an issue," writes Javier Hernandez, with the advocacy group Bike SGV. "The Congestion Reduction Demonstration has exceeded expectations to generate a local funding source for such projects. BikeSGV is extremely excited about this opportunity to fund projects that will improve current biking and walking conditions sooner than later."
Grabowski and Hernandez were two of a team of advocates who testified at last week's Metro Board Meeting that included Eric Bruins from the Los Angeles County Bicycle Coalition, Hilary Norton with Fixing Angelenos Stuck in Traffic, Tafarai Bayne with Trust South L.A., and Andres Ramirez with Community Health Councils. One of the leaders of the effort was Jessica Meaney with the Safe Routes to Schools National Partnership who is also well known as a steering committee member for Los Angeles Walks.
"We're excited to see Metro's sustainability planning policy applied to investment decisions," Meaney explains.
"With only 1% of all Metro's funding currently going to walking and bicycling investments in LA County which represent over 20% of the trips, this is promising finance policy step forward, and helps start conversations and policy links to Metro's forthcoming Countywide Complete Street Policy which will come before the Board in early 2014."
http://www.cnn.com/2013/10/30/world/europe/turkey-marmaray-tunnel-first-day/index.html?hpt=hp_t2
By Gul Tuysuz and Ivan Watson, October 30, 2013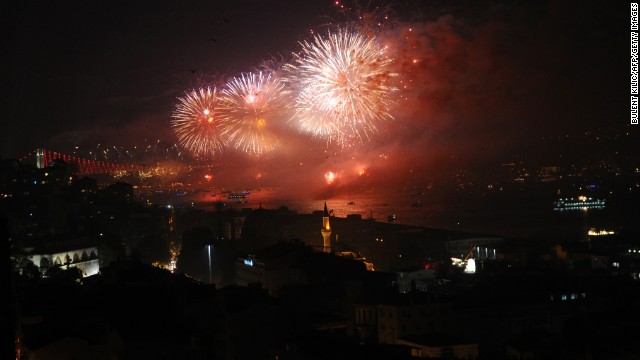 Fireworks explode above the Bosphorus Strait in Istanbul, Turkey, on Wednesday, October 29, during the anniversary of the declaration of the Turkish Republic. Turkey formally opened the world's first sea tunnel connecting two continents. The 8.5-mile long tunnel linking Istanbul's European and Asian sides includes an immersed tube tunnel which officials say is the world's deepest, at nearly 200 feet below the sea level.
Istanbul's new transcontinental train tunnel under the Bosphorus Strait had a bumpy first day of operation, a day after Turkey's Prime Minister called it a "project for whole humanity" at an inaugural ceremony.
On Wednesday, Turkey's state railway confirmed reports there had been a power outage in the tunnel system
.
"Emergency situation procedures" were also carried out multiple times, the agency said in a statement posted online, because passengers hit emergency buttons aboard the trains.
Turkish journalists complained of being barred from entry into the railway system after the breakdowns took place.
"Security personnel told journalists filming video, 'We received orders. It is not allowed to film anymore,' " Turkish news agency DHA reported Wednesday.
Amateur video posted on YouTube showed scores of passengers leaving a stopped train and walking down the long tube that has been constructed underneath the rushing waters of the Bosphorus Strait, effectively linking the European and Asian halves of Turkey's largest city.
Because of an unexpectedly large volume of curious first-time passengers, the railway agency also said it had decided to skip one of the stops on the train's transcontinental route.
The Marmaray Tunnel is part of a $4.5 billion, 76-kilometer (47-mile) megaproject launched by the Turkish government in 2004.
Speaking at a ribbon-cutting ceremony attended by Japan's Prime Minister, Turkish Prime Minister Recep Tayyip Erdogan said the project "connects history and future, past and future; as well as connecting continents, Marmaray connects people, nations and countries."
The rail system, built by a Turkish-Japanese consortium, is expected to have a capacity of 1.5 million people a day, connecting the two continents in about four minutes. The 13.6-kilometer (8.5-mile) tunnel -- the deepest of its kind -- passes under the Bosphorus Strait, one of the busiest shipping arteries in the world.
The financial capital of Istanbul, with a population of nearly 15 million people, is often snarled with traffic, with about 2 million residents making the crossing between continents on a daily basis.
Beyond the size of such an undertaking, digging for the Marmaray uncovered about 40,000 artifacts and helped archaeologists trace Istanbul's history back 8,500 years, 2,500 more than ever believed before.
However, the discoveries delayed the project for four years, which frustrated the Prime Minister who, analysts and businessmen say, wants to put a permanent imprint on Turkey's financial capital.
The project also had to account for Turkey's long history of violent earthquakes and the tunnel's position parallel to a major fault line. Transport minister Binali Yildirim has outlined the precautions, saying the tunnel allows movement and is designed to handle a quake of 9.0 magnitude.
The Turkish government has also begun construction of a third suspension bridge across the Bosphorus Strait. It also plans to build a third airport for Istanbul and dredge a canal to run parallel to the Bosphorus.
The massive government-backed development projects have become a politically polarizing issue in Turkey.
Anti-government protests erupted last summer after the government announced plans to bulldoze a park in central Istanbul and replace it with a shopping mall.
As government officials and crowds of supporters applauded the Marmaray tunnel's inauguration Tuesday, in other parts of Istanbul, riot police clashed with demonstrators protesting the Turkish government.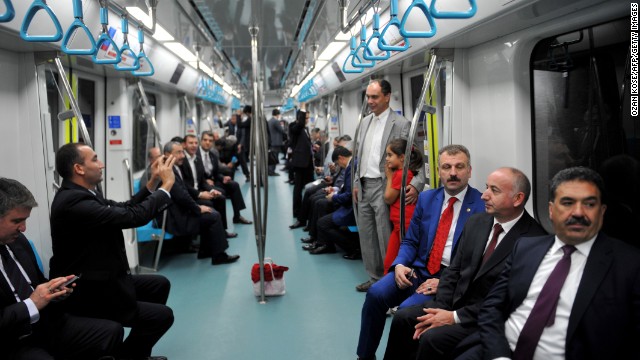 People travel from the Uskudar to the Yenikapi station on the day of the inauguration of the tunnel.
http://www.macombdaily.com/general-news/20131029/study-self-driving-cars-could-prevent-90-percent-of-road-traffic-accidents
October 29, 2013
Car companies such as Volvo are moving closer to fully autonomous vehicles.
Research by independent U.S. thinktank the Eno Center for Transportation claims that even with adoption rates of just 10 percent, autonomous vehicles could help save $25 billion annually, while 50 percent of crashes and related injuries could be avoided.
In the U.S. alone, more than 30,000 people die in road traffic accidents every year and in 90 percent of cases, driver error is a factor. The result — 2.2 million injury or death-inducing car crashes annually at an economic cost of $300 billion.
As the report stresses: "Over 40 percent of these fatal crashes involve alcohol, distraction, drug involvement and/or fatigue. Self-driven vehicles would not fall prey to human failings, suggesting the potential for at least a 40 percent fatal crash-rate reduction, assuming automated malfunctions are minimal and everything else remains constant."
According to its figures, even if only 10 percent of cars on the road were autonomous vehicles, it could lead to 211,000 fewer serious crashes and 1,100 fewer deaths per year but that to eradicate all accidents in which human error is proven to be a factor, a full 90 percent of vehicles would need to be autonomous.
And while the logic of the thinktank's central statistics and central arguments are very simplistic — "AVs can be programmed to not break traffic laws. They do not drink and drive. Their reaction times are quicker and they can be optimized to smooth traffic flows, improve fuel economy, and reduce emissions" — that doesn't mean that they aren't accurate.
An in-depth study by MIT and Audi (published in June) designed to understand the impacts of stress and strain on drivers under different conditions found that getting behind the wheel of a car can be more stressful than skydiving for the first time. "We found that certain driving situations can be one of the most stressful activities in our lives," said Kael Greco, project leader, MIT SENSEable City Laboratory of the results.
Likewise the annual distracted driver survey, published by State Farm Insurance to coincide with Thanksgiving Day weekend, consistently shows that driver distraction levels are climbing, thanks to smartphones and the mobile web. Almost half (48 percent) of 18-29-year-old drivers in the survey said that they surfed the net via their handset while driving (up from 29 percent in 2009), while more than one in three said they checked social media sites and 30 percent admitted to updating their status while behind the wheel. But the most popular activity was checking email, which 46 percent of respondents admitted to doing.
Therefore, the sooner that human distraction can be removed from the driving equation, the better. However, despite massive technological advances, there are still a number of issues that will need to be addressed before autonomous vehicles become a common sight. Chief among these is price. Currently the sensors, lasers, cameras and GPS modules needed to make a car autonomous cost a combined $100,000 and that's without adding in the cost of the car itself.
"This is unaffordable for most Americans, with 2012 sticker prices for the top 27 selling vehicles in America ranging from $16,000 to $27,000," says the report. The hope is that as technologies come down in price and that as adoption rates increase, the ticket price of a self-driving car will fall to between $50,000 and $25,000 over the first decade of production.
But as well as cost, systems will need to be sufficiently robust that they can be trusted to perform in all conditions and laws will need to be changed as in the US and in Europe; a car cannot be allowed on the road unless an adult is in full control.
Despite the challenges, a number of experts believe that the age of the autonomous vehicle is almost here. In August, an ABI Research report on the subject stated that by 2020, the first autonomous cars would be hitting the roads and that by 2032, in the US at least, 10 million such new cars would be rolling out of the showrooms and onto the public highways every year.
A number of car companies, including Nissan and Volvo have stated that they will be offering self-driving cars by 2020.
http://losangeles.cbslocal.com/2013/10/29/oc-residents-public-officials-to-debate-toll-lanes-on-405-freeway/
October 29, 2013
See the website for a video.
WESTMINSTER (CBSLA.com)
— Orange County residents got a chance to voice their opinion Tuesday night on a proposal to introduce toll lanes along the I-405
Freeway
.
Many residents argued that they already pay taxes on Orange County highways, and that freeways should remain free.
"So you're going to pay for that whole freeway, and then you're going to pay if you want to ride on it. That's not right," Seal Beach Mayor Pro Tem Ellery Deaton said. "I will never vote for anything else that they ever ask me to vote for from OCTA, because they lied to me, and I'm mad."
Following
a meeting in September
, the Orange County Transportation Authority's (OCTA) Board Of Directors is scheduled to vote on Nov. 8 on the Caltrans-backed proposal, which would add toll lanes on the 405 between SR-55 at Costa Mesa and the 605 Freeway at the Los Angeles County border.
If approved, construction would begin in 2015 and is estimated to last up to five years.
The 405 Freeway Cities Coalition, who organized the town hall-style forum, hosted a panel comprised of City Council members from six cities: Costa Mesa, Fountain Valley, Huntington Beach, Los Alamitos, Seal Beach, and Westminster. Several elected public officials also attended.
Second District Supervisor John Moorlach said the state appears to be tying freeway funding to an agreement to introduce toll lanes, which in turn has led to push-back by residents.
"We need to step up and say, 'Wait a second, we're the second-highest generator of income tax for the state of all 58 counties, and you're treating us as if we haven't been planning and doing the right things over all this time period," Moorlach said. "That just doesn't sit well."
The 405 freeway in Orange County is counted among the busiest stretches of road in all of the U.S., with over 370,000
cars
a day traveling up and down the interstate.
Express toll lanes that were installed and opened on the Harbor (110) Freeway earlier this year have been
blamed for slower traffic speeds,
with officials attributing the slowdown to solo drivers no longer being allowed to use the carpool lane illegally.
The OCTA did not speak at the meeting, and former Westminster mayor Margie Rice believes she knows the reason why.
"Because when they come, we give them hell," former Westminster mayor Margie Rice said. "We tell them what we think."
Dozens gather in Westminster to voice their opposition to any plan that would add toll lanes to the 405.
http://www.dailypilot.com/news/tn-dpt-me-1030-405-freeway-town-hall-meeting-20131029,0,160777.story
By Bradley Zint, October 29, 2013
WESTMINSTER — They came en masse under the mantra of keeping the freeways free.
More than 150 people crowded Westminster's Civic Center on Tuesday night to formally voice their opposition to any toll roads within a 14-mile portion of the 405 Freeway, from the 73 Freeway in Costa Mesa to the 605 Freeway outside Rossmoor.
Representatives from communities nearby and along the busy thoroughfare — Costa Mesa, Huntington Beach, Irvine, Westminster, Seal Beach, Los Alamitos, Rossmoor and Fountain Valley — were in universal opposition to the toll option, officially called Alternative 3 by the Orange County Transportation Authority (OCTA).
The estimated $1.47-billion project would add one general-purpose and one toll lane in each direction, plus convert the existing carpool lane on both sides of the freeway to a toll lane within most of the 14-mile stretch.
Area politicians and residents said they have long favored either the $1.25-billion Alternative 1, which would add one general-purpose lane in each direction, or the $1.35-billion Alternative 2, which would add two general-purpose lanes in each direction.
Last year, Costa Mesa officials said they favored Alternative 2.
All three alternatives would involve reconstructing the bridges over the 405 along the affected route. The proposals have also been changed and pared down slightly; Alternative 3 was pegged at $1.7 billion last year.
Organizers said representatives from the
California Department of Transportation
(Caltrans) and OCTA were invited to the town hall meeting but did not attend.
"I think it's pretty clear to the community what's at stake here," said Costa Mesa Mayor Jim Righeimer. "What's at stake is the future of Orange County with regards to how we move in this county."
Righeimer called the toll roads "Lexus lanes" — as in feasible only for the super-rich — and said if they're added to the 405, they would pave the way for toll roads elsewhere in Orange County, such as on the 5 Freeway.
"We may be the first ones to do it," Righeimer said, "but we're not gonna be the last."
The 405 toll road debate has recently resurfaced. In October 2012, OCTA's board recommended Alternative 1, though recently enacted federal legislation affecting the minimum traveling speeds within carpool lanes has brought the issue to light again.
Costa Mesa officials, who are once again
exploring their legal options
to fight toll roads, have surmised that Caltrans could override the OCTA's decision and put in toll lanes, which would theoretically keep traffic flowing to help meet federal standards.
That scenario was not lost on former state Assemblyman
Jose Solorio
(D-Anaheim), who called the resurrected idea reminiscent of something on the "The Walking Dead" TV show.
Huntington Beach Mayor Connie Boardman said Orange County residents are already paying taxes for their roads via gasoline purchases and Measure M, a voter-approved, half-cent sales tax for transportation projects.
"This would be a tax on a tax on a tax," she said.
County Supervisor John Moorlach, a Costa Mesa resident, called the saga "a whole new definition to the term highway robbery.
"
Past improvements to other county freeways didn't require tolls, Moorlach noted.
"This is being done to us," he said. "It's not being done with us."
Seal Beach Mayor Gary A. Miller said residents in Garden Grove, Huntington Beach and Westminster aren't likely to pay a $4 toll just to cross into nearby Los Angeles County. They would take surface streets instead, he said.
"Our local streets are going to be very congested if this option is passed," Miller said.
Fountain Valley Councilman John Collins called the tolls "an insult to the voters" who renewed Measure M in 2006, which never proposed adding toll roads.
Collins also questioned where the toll funds would go to.
"I have never seen a good answer to that question," he said. "Is it guaranteed to come to us, or is it open to be taken later on?"
Adolfo Ozaeta, a traffic engineer for Westminster, said 405 toll roads were studied as early as 2003. The contentious Alternative 3 surfaced in 2009, he said.
Tolls could peak at $9.91 for northbound trips and $6.11 for southbound trips, according to OCTA projections.
The OCTA is scheduled to discuss the 405 plans on Nov. 8 at its headquarters in Orange.