http://www.cnn.com/2013/09/30/travel/shutdown-travel-national-parks/index.html?hpt=hp_c2
By Katia Hetter, October 1, 2013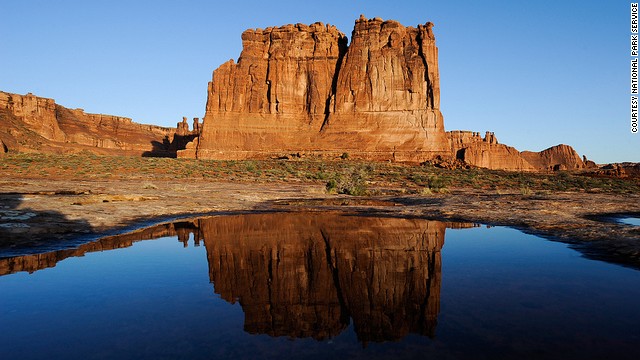 Arches National Park
is one of 401 National Park Service sites to close to visitors during the government shutdown.
(CNN)
-- Planning to travel in or to the United States and wondering if the U.S. government shutdown will hit your plans?
Well, you may need to tweak some sight-seeing portions of your itinerary. Never mind that visit to the Statue of Liberty in New York City. Forget visiting Independence Hall in Philadelphia. And that hiking adventure at Yellowstone National Park? It won't happen.
Congress, wrangling over spending and Obamacare, failed to renew government funds in time for the start of the new fiscal year on Tuesday, and many travelers -- both domestic and international visitors -- will quickly start feeling the impact of the shutdown.
While rail networks, essential air security and traffic control operations won't be impeded, travelers visiting the country's national parks and other government-run tourist attractions will find the gates shuttered and the doors locked.
All 401 National Park Service sites, which collectively average about 715,000 visitors per day in October, will be closed, according to a park service spokeswoman. (Guests staying in campgrounds and on-site hotels will be given 48 hours to leave.) The
Smithsonian's 19 museums and galleries and the National Zoo
will also turn visitors away.
Is it safe to fly?
Most immigration, border and customs employees are
also considered essential personnel
, which means passport controls at U.S. borders and points of entry like airports and cruise ports -- should be unaffected by the shutdown.
Other FAA projects, including facility security inspections, routine personnel security background investigations and development of the next generation of air traffic control technology, will be placed on hold.
What if you're waiting on a passport?
If you're waiting on a U.S. passport, how long that wait will last depends on where the passport agency is located. Passport services, because they are funded by other revenue, are generally "unaffected by a government shutdown," according to a State Department spokesperson.
There's just one possible catch: If the passport office is located within a government building that has been shut down, passport approvals may be affected.
If you need a visa
Because consular services at U.S. embassies and consulates around the world are largely funded by application fees, not annual appropriations, visa applications filed by foreigners wanting to enter the United States will continue to be processed, according to the State Department.
Overseas impact
Even those visitors trying to pay their respects at American military cemeteries located outside of the United States will feel the impact. The Normandy American Cemetery and 23 other overseas cemeteries operated by the
American Battle Monuments Commission
will be closed to the public for the duration of the shutdown, according to the
commission's contingency plans
.
"The Normandy American Cemetery presents a special case, as visitors have access to the cemetery via the unfenced approaches from the beach, according to the plan. "Visitors will be asked to leave, but confrontation will be avoided."