European countries are exploring new ways to fund public transport
http://www.theguardian.com/public-leaders-network/2013/oct/30/europes-transport-innovations-private
By Bjorn Hasselgren, October 30, 2013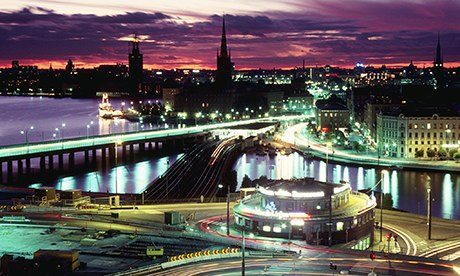 The UK, Sweden and Germany each fund their transport infrastructure in different ways.
Innovation must be applied to
transport
infrastructure systems, such as roads and railroads, if we are to meet future challenges.
Since the mid 20th century roads and railroads have been managed by governments in most European countries. Funding has been dominated by fuel taxes and taxes on vehicles. Railroads have been heavily subsidised with general tax revenues while road traffic has more or less paid its costs through the taxes.
In some Eur
opean countries roads have been organised as private corporations with government concessions, but in general that has been the exception. But this seems to be changing fast.
Lately transport infrastructure investments and buzz-words like sustainability and livability have been on the lips of politicians and corporate leaders. In a time of financial austerity transport infrastructure is seen as both a way out of the crisis and as a problem – how to
finance
and how to adjust to the new
technology
that is coming online.
The introduction of IT-based solutions is making information on capacity more accessible than before. Vehicles and infrastructure will also become able to communicate in the future. Suddenly new methods to reduce congestion, to improve safety and limit environmental impact seem to be within reach.
The development and use of more fuel efficient vehicle technology must also be taken into account. Electric vehicles and alternative fuels to gas and diesel are gaining market shares. This in turn introduces a threat to traditional government funding: fuel tax suddenly erodes. And governments must look either for cost-savings or alternative sources of revenue.
A
new report
for the Swedish Ministry of Finance's expert group on public economics shows that the UK, Sweden, other Nordic countries and Germany have chosen different ways to handle the new situation. The UK seems to be among the most innovative having launched a road reform earlier this year, which aims to introduce an independent more business-like organisation for roads.
The Nordic countries, except Sweden, are experimenting with public-private partnerships
, fee funded projects and toll-financing. Norway is introducing an extensive toll programme for local and regional roads, and the government is open for additional partnerships. Denmark is experimenting with a number of fee-financed tunnel and bridge projects in separate government corporations and new financing from oil-industry taxes. Finland has set up an inquiry to look into the introduction of GPS-based road-charging. Germany has used public-private partnerships for its large motorways.
Sweden seems decoupled from many of these current trends. Even if congestion charging has been introduced in Stockholm and Gothenburg, in addition to some fee-funded motorway sections, government-managed and tax-financed transport infrastructure is still the dominant model.
The report concludes that there are many interesting signs of an increasing innovation rate in transport infrastructure. And there are different ways of handling the challenges. This industry might once again become a driver for increased productivity and change, as in earlier periods of growth and creative destruction.