http://abclocal.go.com/kabc/story?section=news/local/los_angeles&id=9363317
December 17, 2013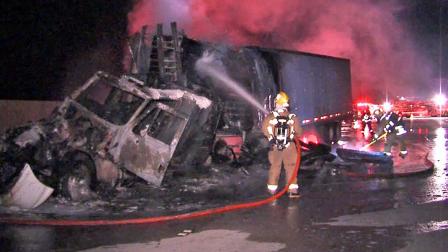 GLENDALE, Calif. (KABC) --
A big-rig crash and resulting fire closed down all westbound lanes of the 210 Freeway early Tuesday morning.
The crash occurred shortly after midnight just east of the Lowell Boulevard off-ramp in the Glendale/La-Crescenta area, according to the California Highway Patrol.
Officials say a big rig rear-ended another big rig that slowed down unexpectedly. The crash ignited a fire, burning one big rig to the ground. Authorities say both drivers were able to escape unharmed, though one driver suffered a minor injury. A massive cleanup was underway.
Westbound lanes of the 210 were closed between Lowell and the Pennsylvania Avenue off-ramps. Traffic was diverted off at Pennsylvania Avenue. Commuters were advised to get back on the 210 via Foothill Boulevard, then Lowell Avenue. Eastbound traffic did not appear to be affected.