Port of Long Beach Program Aims to Move Playgrounds Away From Pollution
New grant funding and guidelines will allow playgrounds to get funds to move farther from freeways
http://www.nbclosangeles.com/news/local/Port-of-Long-Beach-Program-Aims-to-Move-Playgrounds-Away-From-Pollution-199272811.html
By Hetty

Chang, March 20, 2013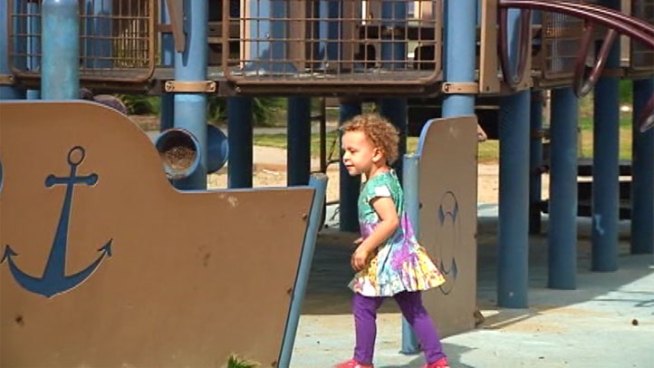 A new grant program funded by the Port of Long Beach will allows children's facilities to apply for funding to move away from pollution sources. In this photo, a young child plays at a park in Long Beach on March 20, 2013.
The Port of Long Beach, the second busiest seaport in the country, moves approximately $155 billion in cargo every year. Many area residents recognize the importance of the port's economic impact, but they're concerned about some of the environmental effects of all that shipping traffic.
"We like that we have the business of the port. Without it, gosh, can you imagine?" said Sandra Pope, who has lived in Long Beach for 25 years.
Like many of the residents who live near the port and its cargo routes, Pope is very aware of the consequences of the huge amounts of cargo being moved in and around her community.
"Yes, the pollution is really bad here," Pope said.
Especially concerning to many parents are the parks and playgrounds adjacent to cargo routes.
Now, thanks to new guidelines and $2.6 million of new funding offered by the Port of Long Beach, parks are among the entities that can apply to move playground equipment further away from pollution sources, such as freeways.
Parents including Isabel Fernandez are welcoming the idea.
"I think it will be good for little kids to go move somewhere else," Fernandez said.
The new funding is part of the port's Community Mitigation Grant Programs, which are designed to reduce the impacts of port pollution and emissions. Changes in the guidelines, which were approved by the harbor commission Monday, also identify pregnant women as a target group that could benefit from the new funds.
"We've reduced port emissions by 75 percent since 2005," said Susan Wise, president of the Board of Harbor Commissioners for the Port of Long Beach. "These funds allow us to fund grants that the community brings to our attention."
Several schools near the port's corridor have benefitted from the mitigation program.
St. Anthony's High School, which is just a few miles from the port, is now reaping the benefits of new air filtration units awarded from program funds, according to school president Gina Maguire.
"This year, I have to say, we've had less absences, and students are commenting on how much easier it is to breathe," Maguire said.
While it is hard to measure exactly how much the playground equipment relocation will help reduce the impact of emissions on children, residents were interested in learning more about the potential benefits to their community.
Informational workshops for residents are scheduled for the last week of March, and details are
posted on the port's website
.