One Year Later, Who Is Riding the Expo Line?
http://www.neontommy.com/news/2013/04/one-year-later-who-riding-expo-line
By Axel Hellman,

May 1, 2013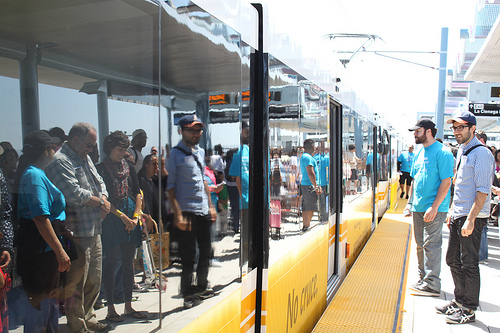 When the Expo Line, Los Angeles Metro's newest light rail line,
opened in April 2012
, initial ridership numbers were low, starting at around 11,000 per average weekday, a fact which
many media
sources
reported
on.
One libertarian think tank
used these low numbers to argue that light rail systems in general should not be built.
But now, one year later, the picture is very different. Ridership on weekdays has been
increasing at a steady clip
of about 1,000 per month, reaching an estimated 26,000 per day during the week. Given that Metro
projected about 27,000 riders per day
by the year 2020, that number is very good. The number of people riding the Expo Line may pass that benchmark in the coming months.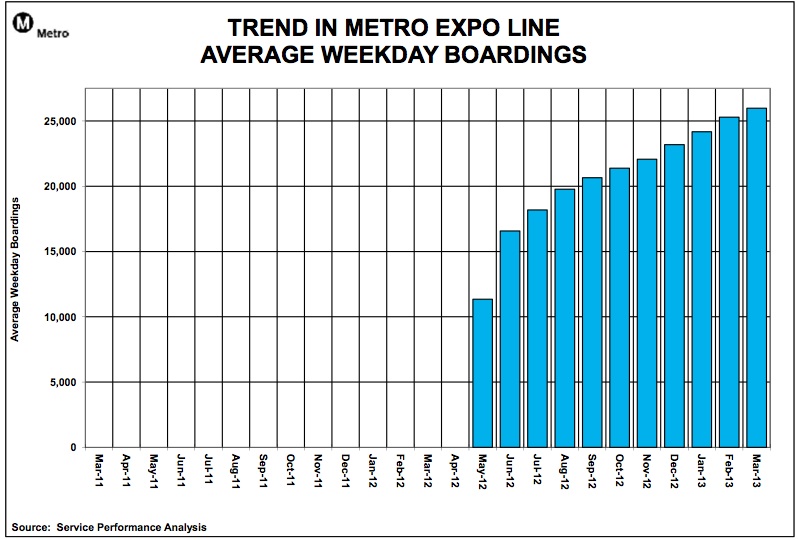 A Metro spokesperson, Jesse Simon, disputed the line's naysayers, cautioning that ridership will rise with time, "A favorite tactic of rail critics used to be to take statistics from a year or two after the opening date of a rail [line] to show that out-year estimates of rail patronage were grossly exaggerated. But changing to rail involves a longer process of changing habits. Our experience with rail patronage, and I believe experience elsewhere, is that rail growth is incremental."
Simon said that in the long term, ridership has been slowly increasing on Metro's other rail lines,
"Rail patronage has increased steadily almost every year since the first Line opened in 1990; and not only because more lines came online – within each Line the growth has been steady and it has not reached a stable endpoint."
So who are these tens of thousands of people who use the line every day? In addition to Downtown commuters, a broad range of people are using the line for work, school and play.
Although not a majority, a significant number of USC faculty and students are using the line to get to campus, "The number of graduate student Metro passes increased from about 500 last year to over 1,500 this year," says USC ridesharing coordinator Lev Vanshelbaum. "Additionally, the number of staff/faculty that signed up for a Metro TAP pass through USC tripled in the first few months after the line opened."
Another Metro spokesperson, Jose Ubaldo, says that Metro has been specifically targeting some of its marketing efforts at USC students, offering free tap cards to students and distributing brochures about where the line can take them. He says that these otureach efforts yielded a "good response."
He explained that Metro also employs seven staffers whose job it is to reach out to employers, and to help them comply with air quality regulations and coordinate employee commuting my using Metro.
Metro also arranged press events and provided
free rides
when the Expo Line opened in order to introduce the line to Angelenos. But Metro unable to provide exact demographics about the Metro line or the return on investment from the otureach programs.
Andrew Allport, of Culver City, teaches at USC and normally takes the Expo Line to work. He said that it spares him the troubles of traffic and parking on campus and said, "Before I would bike all the way to work or take a motorcycle. The train is way better."
"The train also gives me the opportunity to read and to grade papers," he added.
Still, Allport estimates that 85 percent of his colleagues drive to work, saying, "It's only really convenient if you live in Culver City."
Younger students are also using the line to get to school. Maria Diaz, a middle school student, used to walk a mile from her school to the Blue Line at Grand, but now takes the Expo line.
Southern California Public Radio reports
that many people are using the line to access entertainment destinations downtown, particularly is the LA Live/Staples Center area, which is near the Expo Line's Pico station.
And the
Daily News has observed
a trend of San Fernando Valley residents taking the Red Line and transferring to the Expo Line to get to places on the Westside, in an attempt to avoid traffic.
In the fall,
thousands of spectators
at USC football games at the L.A. Memorial Coliseum arrive by train, and USC worked with Metro to make fans aware of their options.
The museums in Exposition Park are another major attraction along the line. Many visitors take the train to get there, including many school field trip groups. One such group was led by Shatay Deese, a kindergarten teacher at the Culture and Language Academy of Success on Coliseum Street. She said that it was a cheap alternative, "A school bus would cost like 300 dollars." It was also fun for the kids, she said, "They did enjoy it. We just need a lot of chaperones to make sure that everyone gets on and off."
The California Science Center and the Natural History Museum, two museum in Expo Park,
offer a discount
to visitors who take Metro in an effort to encourage patrons not to drive.
Use of the Expo Line is fairly well distributed along the line. According to Ubaldo, the three most used stations are all at the ends of the line, at 7th Street/Metro Center, Culver City, and Pico. The 4th, 5th, and 6th most used stations, Vermont, Western, and Crenshaw, are all very close in terms of passengers.
A common criticism of light rail is that it
diverts riders from buses
and fails to draw drivers out of their cars. Thus, light rail lines can fail to have an impact on traffic and congestion, but can cost hundreds of millions of dollars.
This does not appear to be the case with the Expo Line. Metro's
publicly available ridership statistics
show that bus routes than connect with the Expo Line, and routes that run along similar parallel corridors, all have maintained steady ridership numbers.
The Expo Line is being used by tens of thousands every day, and that number is still growing. Metro expects the completed line to Santa Monica to generate
64,000 daily riders by 2030
, a goal that is ambitious, but given the success of the first phase of the Expo Line, not unrealistic.