http://www.huffingtonpost.com/2013/07/11/eric-garcetti-ride-sharing_n_3580768.html?utm_hp_ref=los-angeles
July 11, 2013
(See the website for the video.)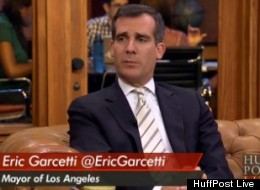 A still of Mayor Eric Garcetti's interview with HuffPost Live.
Ride-sharing apps like Uber, Lyft and Sidecar can breathe a little easier knowing that they have an ally in newly-installed Los Angeles Mayor Eric Garcetti.
The unorthodox car service apps operating in LA received a cease-and-desist order from city taxicab administrator Thomas M. Drischler in late June, before Garcetti was inaugurated.
But in an interview with
HuffPost Live's Jacob Soboroff
Wednesday, Garcetti came out in favor of the ride-sharing apps.
"I was a little worried to see a cease-and-desist order just go out and say 'you can't do this' when the state, at the same time, is looking at this," he said.
Garcetti is referring to California's Public Utilities Commission, which regulates limousines and hired cars. The CPUC
has a temporary agreement
with ride-sharing apps to continue operating statewide while the commission proposes a permanent way to regulate and license the techie transportation businesses. Because of the required public review period and other delays, California could be months away from establishing them.
That's why Garcetti has asked City Attorney Mike Feuer to look into the matter locally until then.
Garcetti also compared ride-sharing apps to technological advancements like Amazon.com and Skype -- in other words, change is coming and there's nothing anyone can do to stop it.
"I'm sure book stores didn't want Amazon when they started and phone companies said we'll be killed off by Skype," said Garcetti. It'll be up to the
taxi cab industry
, he emphasized, to "adapt and adopt."