http://www.ladowntownnews.com/news/downtown-bike-commuters-find-safety-and-fun-in-group-rides/article_c6099c92-0c4c-11e3-8cc9-0019bb2963f4.html
By Ryan Vaillancourt, August 27, 2013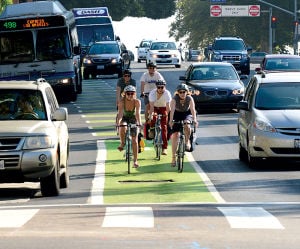 DOWNTOWN LOS ANGELES - When it comes to riding a bicycle, especially on city streets, the rule of safety in numbers applies.
A group of cyclists pedaling at the same pace is simply more visible to car drivers. There's another plus about riding in a group: It's more fun.


Those beliefs led cycling advocates Nona Varnado and Bruce Chan to form L.A. Bike Trains, an upstart organization that hosts weekly morning rides between various residential neighborhoods and employment hubs.
By creating a group setting to ride to work, Bike Trains hopes to inspire people to ditch their cars and take to the streets on two wheels. It seems to be getting some traction: After launching in May with four routes, Bike Trains is now up to nine routes, four of which culminate in Downtown (other destinations include Long Beach and Santa Monica).
"Our number one target audience is the people who basically don't feel comfortable riding by themselves," Varnado said. "They might not have any experience or might not know how to get there."
Here's how it works: Would-be participants pick a route that corresponds with their commute (most rides start in the Silver Lake/Los Feliz area). Riders convene at a starting point and roll out by 8 a.m.
Downtown destinations include Fifth and Olive streets and Seventh Street and Grand Avenue. Some routes pick up regular riders along the way
Each ride is led by a "conductor," an experienced cyclist with safety training for riding in the street.
In Action
On a recent Wednesday morning ride, conductors Kelli Bachmann and Kelly Majewski met up at Sunset Boulevard and Hillhurst Avenue in Los Feliz for a trek to Downtown via Sunset. It started with just four riders, but as the petite peloton rolled east, it slowly grew.
Nat Gale, a transportation planner in the office of Mayor Eric Garcetti, joined the train near Café Tropical at Sunset and Silver Lake boulevards. A half-mile farther east, Ryan Johnson, a transportation consultant who works near Pershing Square, joined in.
Johnson, who wore green sunglasses emblazoned with the logo of CicLAvia, said he learned about Bike Trains by virtue of being part of L.A.'s growing cycling culture. Johnson and Gale are both regulars on the Wednesday Silver Lake to Downtown route.
Even though the recent ride had no beginner participants, Bike Trains is clearly geared toward casual commuters, and not Lycra-loving roadies or renegade fixie die-hards.
With Bachmann and Majewski leading the way, their long skirts parachuting down Sunset, the group rolled at an easy pace. Riders used universal hand signals to note obstacles in the bike lane. When an errantly parked car impeded progress, the group carefully veered in unison into the nearest traffic lane, then fell back into the line. It took about 15 minutes to travel from Silver Lake to First and Spring streets in Downtown.
Currently, most Bike Train routes attract from two to 10 participants, said Varnado, who worked as a bike messenger in New York and Budapest before moving to Los Angeles.
The rides, which are free, are slowly growing in popularity, with most regular participants connecting through various social networks.
"In Los Angeles, cycling is totally social," Varnado said. "I always thought of my bike as transportation. Here, it's recreational, it's road riding, but it's not transportation yet. I thought if we took social riding and turned that into transportation that this could really be a game changer."
Beginners who are uncomfortable even riding to the morning meet-up point can contact Bike Trains for a "valet service." The conductor will meet valet users at their home, escort them to the starting point, and make sure they know how to properly lock their bike at the workplace, Varnado said.
Additional information is at labiketrains.org.