http://citywatchla.com/4box-right/6284-there-s-no-community-in-the-metro-community-leadership-council
By Randall Fleming, January 10, 2014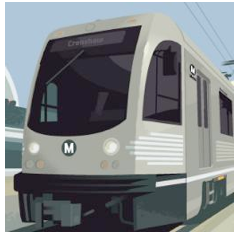 INSIDE INGLEWOOD
-The Crenshaw/LAX Community Leadership Council (CLC) held its first 2014 Quarterly Meeting on Tuesday night at the St. John Chrysostom Church in Inglewood, CA.
On hand were representatives from Walsh-Shea, the general contractor for Metro's Crenshaw/LAX Line that is being built through South LA and Inglewood. Inglewood is slated to have three of the eight stations on the line.
Neither the Mayor of Inglewood, James T. Butts, nor any of the City's four council members or reps from any of the five offices was present.
However, CLC members who appeared to feign concern were taken to task by Inglewood residents for their apparent incompetence and self-serving attempts to gain new business for themselves by berating Walsh-Shea reps.
The meeting was off to a very slow start. Scheduled to start at 6 p.m. it did not start until nearly 6:30. No excuse was offered and despite the full house (about 200 people), CLC co-chair Arna Fulcher instead opened with an announcement that as they had to be out as soon as possible after 8 p.m., public comments would most likely have to be curtailed if not cut altogether.
The crowd groaned.
After a lengthy round of introductions that prompted members of the audience to demand they "Speak up!"—a comment that would be heard several times through the next two hours—a slide show and other basic information used up a fair amount of time. The room's acoustics made it difficult for people to hear regardless of the volume, and some felt that that was the reason the venue was chosen.
When it came time for CLC members to ask questions of the Walsh-Shea reps, some questions were asked.
It was a departure from previous meetings, when CLC members appeared to antagonize audience members who dared to demand answers from Metro.
However, not many answers were forthcoming. When contractors' reps paraded a few unknown people from previously unheard organizations, CLC members did little more than firmly ask twice when the reps waffled about numbers of minority workers hired and safety aspects of construction.
At one point, a CLC member who did not state her name said, "We have been convened for two and a half years and what we are being told tonight should have been told to us two and a half years ago."
That comment prompted another groan.
Another CLC member's comments were couched in concerns for the community but were clearly meant for his own interests. Willie Brown, who had until late 2013 been a recipient of Metro funds via advertising in the paper he owns, Inglewood Today, complained that there had been no community outreach to newspapers. He made it clear that what he wanted was paid advertising from Walsh-Shea in his paper.
"I'm not sure you know the people in this community. You have all that Internet and e-mail stuff, but what they read is newspapers. You need to use newspapers to make sure they are informed."
Brown did not discuss his paper's absolute lack of calendar announcements or story coverage of the CLC's meetings or of any Metro meetings at all.
When the CLC did take the Walsh-Shea reps to task for their errors, it was in a puerile and embarrassing fashion.
At one point, one of the CLC members, an elderly lady who did not announce her name, interrupted a slide-show presentation to heckle Walsh-Shea Project Manager Erich Engler for a typo on the screen. "You've got 2104 up there," she chuckled. She said it twice more but was not called out of order for her unnecessary outbursts.
"Yes, that's a typo," said Engler before moving on with his presentation.
As the meeting's scheduled 8 p.m. end approached, Fulcher interrupted the proceedings to announce that there would be a short time for public comments, that such comments would be limited to one minute each and that they would end the meeting at 8:20. She did not acknowledge the 30 minutes wasted at the beginning of the evening.
Many people were upset with the CLC's lack of action. "We're holding you responsible," said a young woman who pointed at the CLC members. "You said you have been convened for more than two years and are only now getting answers that should have been known back then, before this project started. I think that means that you are responsible for what happens now."