http://www.chinadaily.com.cn/world/2014-02/26/content_17307798.htm
February 26, 2014
Almost a seventh of China's land has been engulfed by heavy smog with the air pollution in 20 cities reaching "danger level". China is not alone however. Many countries, during industrial and economic development, have been confronted by the same problem. The crisis of air pollution is an issue from which we cannot hide.
United States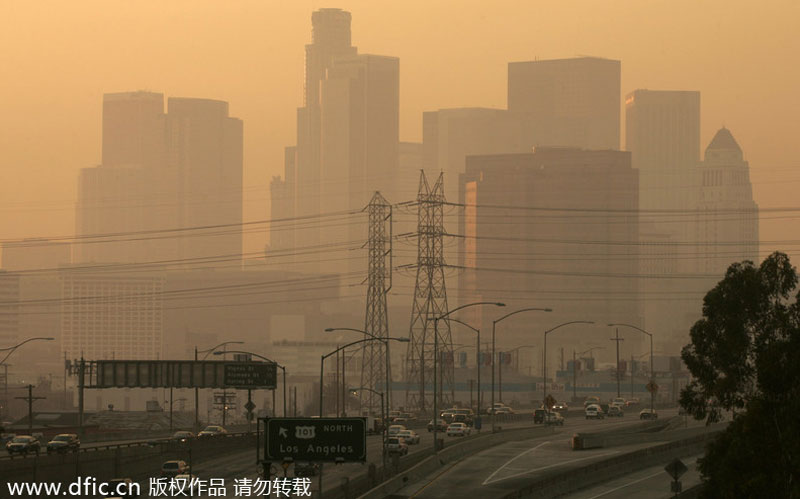 Heavy smoke lingers over the Los Angeles skyline Nov 16, 2008
Since the beginning of the Industrial Revolution in the United States, America has had trouble with environmental issues, air pollution in particular. Roughly 60 percent of Americans live in areas where air pollution has reached unhealthy levels that can make people sick, suggests the 2009 State of the Air report released by the American Lung Association.
Los Angeles has some of the most contaminated air in the country with diesel engines, ports, motor vehicles and industries the main sources. Frequent sunny days and low rainfall contribute to ozone formation, as well as high levels of fine particles and dust.

Efforts
The US created the Environmental Protection Agency in 1970 and passed the Clean Air Act. The act originally empowered the EPA to determine safe limits and regulate six major air pollutants, now expanded to 189 potential threats.
Smoking was increasingly restricted on planes until it was finally banned in 2000, when exceptions for flights to and from the US were abolished. Indoor smoking bans are now de rigueur across the nation
.
The EPA replaced the Pollution Standards Index with the Air Quality Index in 1999 to incorporate new PM2.5 and ozone standards.
The US Congress authorized funding for the Diesel Emissions Reduction Act, a grant program, administrated by the EPA, in 2005 to selectively retrofit or replace older diesel engines most likely to impact human health.
The "Clean up Green up" campaign was launched in 2011 to designate three low-income LA communities - Pacoima, Boyle Heights and Wilmington. The campaign aims to push green industries through incentives, including help obtaining permits and tax and utility rebates.

Improvement
Thanks to the Clean Air Act, many people in the US are breathing a little easier. The American Lung Association's "State of the Air 2013" report, which analyzed ozone and airborne particle levels from 2009 to 2011, showed that overall the nation's air quality is much cleaner, especially compared to a decade ago.
From 1980 to 2000, according to a 2009 study in the New England Journal of Medicine, average life expectancy increased five months because of the nationwide decrease in air pollution.
Concentrations of carbon monoxide – once spewed by every car and truck but now removed by catalytic converters – have dropped by about 90 percent in large American cities.
Concentrations of particulate matter, a classification covering a wide range of pollutants in the microscopic to near-microscopic range, have dropped by about 80 percent from their peak, and ozone has plummeted as well.
Lead emissions fell by more than 98 percent.
According to a 2012 study by the National Oceanic and Atmospheric Administration, the levels of certain vehicle-related pollutants in Los Angeles have dropped by 98 percent since the 1960s
London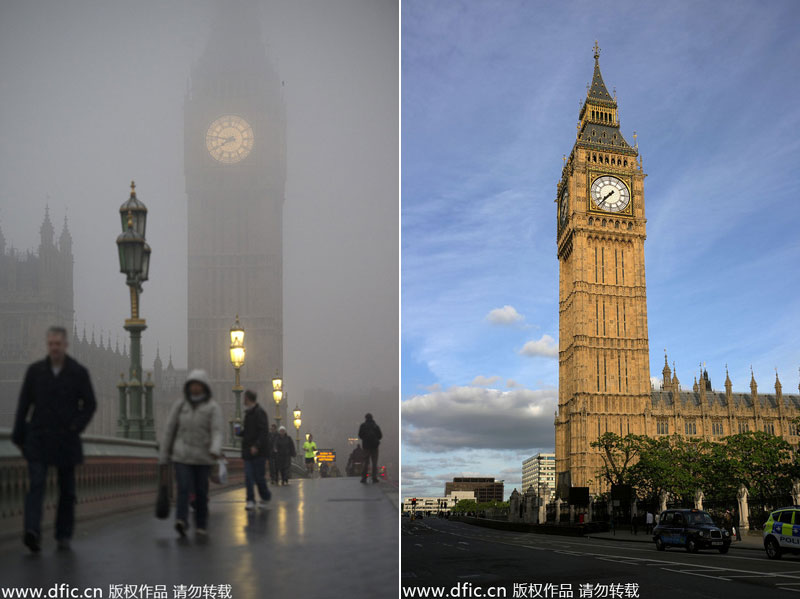 Yellow-grey smog was a frequent visitor to London in the 1950s and earned the name "London fog".
The heaviest, which shocked the world, was in 1952. Because of cold weather combined with an anticyclone and windless conditions, collected airborne pollutants blanketed the city, visibility was reduced to a few yards and an estimated 4,000 people died.
The main pollutant, sulphur dioxide, was linked to coal burning by many inner city factories and households and had reached exceptional levels.

Efforts
The legacy of the Great Smog was the Clean Air Act of 1956 which introduced a number of measures to reduce air pollution.
Furnaces could no longer emit "dark smoke" and households were offered grants towards the cost of converting their coal-burning grates to smokeless fuel.

Improvement
By 1975, foggy days in London had been reduced from around 50 to 15 and to only five in 1980. But new pollution threats are causing concern as air pollution mortality figures remain almost identical. Instead, today's pollution is caused by nitrogen dioxide due to traffic fumes. The Mayor's Air Quality Strategy aims to reduce levels of nitrogen dioxide and particulate matter by: reducing transport emissions; cutting pollution from construction and energy generation; taking pollutants from road surface treatment and reducing exposure by warning people of high pollution days.
New Delhi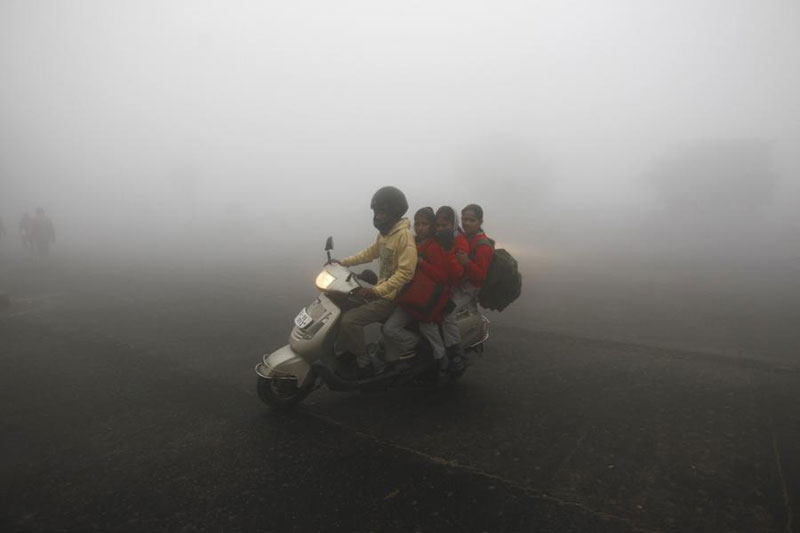 Schoolgirls ride on a scooter on a foggy winter morning in New Delhi December 17, 2013.
Air quality in New Delhi, a city undergoing breakneck economic development, is even worse than that of Chinese cities, such as Beijing, where the smog has reached danger level.
India is placed 155th among 178 countries on the global environment performance index 2014 and 174th in terms of air pollution. New Delhi is now overtaking Beijing as the most polluted city in the world,
From 2000-2011, PM10 levels in Delhi's air jumped by as much as 47 percent.
Moves by the city government including allowing new cars, subsidizing diesel and increasing compressed natural gas prices, have made the problem more serious. Most doctors in New Delhi say more people in the city are becoming ill from the toxic air.

Effort
New Delhi has done little to curb worsening air quality in recent years. However ,the city government introduced a set of reforms more than 10 years ago, which included moving industry beyond city limits, building a subway and switching public transport to cleaner-burning fuel.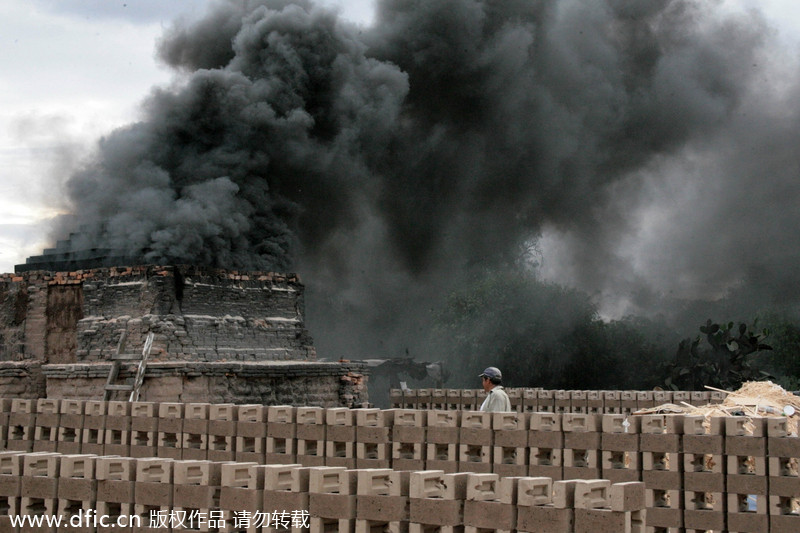 Image of the pollution that 150 brick kilns generate in San Luis Potosi, Mexico, Dec 4, 2009.
As a result of accelerated urbanization since the 1980s, Mexico City became one of the most heavily polluted cities in the world for a time as pollutants are further prevented from dispersing due to mountains on its three sides. The city has high concentrations of nearly every major harmful airborne pollutant, including sulfur dioxide, nitrogen oxides and carbon monoxide. By far the worst problem gripping the city is the massive cloud of smog that hangs over it almost every day. Mexico City has the highest level of ground-level ozone in the world, according to WHO.

Effort

Ecological Balance and Environmental Protection Laws and Anti-Pollution Overall Plan were introduced

Protection of environmental resources at the strategic level of national security

Automatic air pollution monitoring system

Two-Stage Air Emergency Response Program

Scientific researches concerning environmental protection and new energy development

Green transportation like "No drive today" since 1989 and vehicles exhaust emission examination every half-year.

Improvement
Statistics show that since the year 1990, lead levels in the air of Mexico City has fallen 90%, while suspended particles that cause asthma, emphysema, or even cancer have been reduced by 70%, and the emission of carbon monoxide and other pollutants has also plunged. The level of ozone has decreased 75% as well since 1992.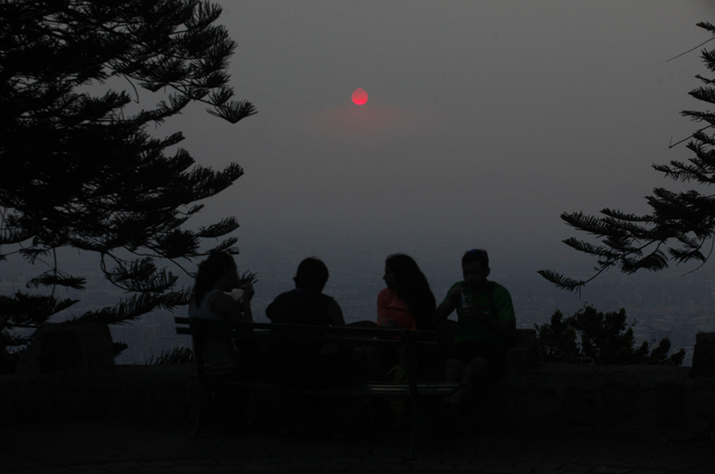 Chile has experienced a period of strong economic growth but the speed of that growth has come at a cost to health, productivity and environmental degradation. Air pollution in Santiago, caused by industrial and vehicle emissions as well as street dust blown from unpaved roads and eroded hillsides, is blamed for significant health damage, including premature death and serious respiratory diseases.

Effort
Environmental authorities have plans aiming to reduce concentrations of PM2.5 by 30 percent in 10 years through control of industrial emissions, wood-burning heaters, and transport vehicles.
.