http://www.ladowntownnews.com/opinion/yes-to-an-arts-district-subway-stop/article_96dc06d8-8ac5-11e3-a931-001a4bcf887a.html#.UvEpTQJAxlU.twitter
February 3, 2014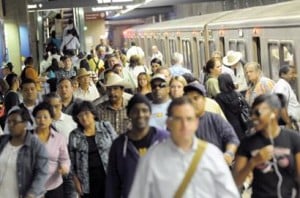 DOWNTOWN LOS ANGELES -
W
hen it comes to making mass transit infrastructure decisions, two criteria tend to matter the most: cost, and how the project will impact current and future congestion.
Speaking at a meeting of the Los Angeles Current Affairs Forum, Leahy said he has directed Metro staff to study building stops at First and Sixth streets near existing Metro tracks. His reasoning is logical: The Arts District is changing, with hundreds of millions of dollars in investment pouring into the community, and this is a chance to respond to the transformation. "We ought to be innovative and be willing to experiment," he told Downtown News after the event.
The proposal would appear to be feasible from a cost standpoint. As mentioned above, Metro tracks already come out of Union Station and run through the Arts District. That is why City Councilman Tom LaBonge proffered a variation on the idea four years ago. LaBonge noted that an aboveground platform that reaches the height of a railcar door could be poured. Sure, there would be some expense, but compared to securing rights of way, conducting extensive traffic studies and laying track, as occurs with new rail projects, the Arts District expenditure is relatively low.
More important, as Leahy and others mentioned, is the present and future activity in the Arts District.
The neighborhood has become one of the hottest communities in Los Angeles and is seeing a blitz of development. The 438-apartment One Santa Fe is rising east of the Southern California Institute of Architecture, and Legendary Development is preparing to break ground this year on a nearby 472-unit rental complex. Other housing projects already exist throughout the area, including three buildings developed by the firm Linear City in the southern portion of the district. Being able to get these people from their homes to the center of Downtown, or other neighborhoods throughout the region, without climbing into a car has obvious benefits.
Then there is the biggest project coming to the area: In 2015, work will start on a $401 million replacement of the Sixth Street Viaduct. The project will improve connections between the Arts District and Boyle Heights, and include recreation areas on the banks of the Los Angeles River.
All of this activity means that the district could wind up in a traffic crush. That is a serious concern, considering that stakeholders have already experienced the first pangs of congestion and parking shortages. Wouldn't it be refreshing to be in front of a problem rather than play catch-up later?
This is why the Arts District rail station idea should be seriously considered. We're pleased Leahy has broached the idea and we look forward to hearing the Metro staff's report. We hope Leahy will remain a champion of the proposal.