http://abclocal.go.com/kabc/story?section=resources/traffic&id=9455311
By Carollyn Nguyen, March 5, 2014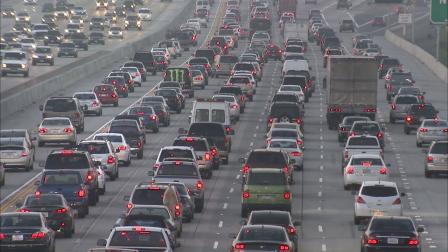 Traffic is seen backed up on the San Diego (405) Freeway in Los Angeles in this undated file photo.
LOS ANGELES (KABC) --
It may not come as a surprise, but Los Angeles has once again topped a list of major U.S. cities with the worst traffic.
According to INRIX's seventh annual Traffic Scorecard Report, drivers nationwide wasted an average of 47 hours in traffic a year in major cities, and it's only expected to get worse.
Los Angeles was the worst with an average of 64 hours wasted in traffic in 2013 -- that's an 8.5 percent increase compared to 2012.
Honolulu followed close behind with 60 wasted hours, an 18 percent increase. San Francisco came in third with 56 hours, a 13 percent increase.
According to the study, the Los Angeles area's freeway system is more congested than that of any other city in the U.S., U.K., France, Germany, Belgium and the Netherlands.
INRIX says the reason for the congestion is the improved economy. It says cities experiencing economic growth and employment are the ones seeing increased traffic. In 2013, 61 U.S. cities saw increased congestion compared to just six cities in 2012.
INRIX says if economic growth continues this year, drivers can expect more delays and longer commute times. Traffic congestion costs the U.S. $100 billion every year.