http://abclocal.go.com/kabc/story?section=news/local/los_angeles&id=9454208
March 4, 2014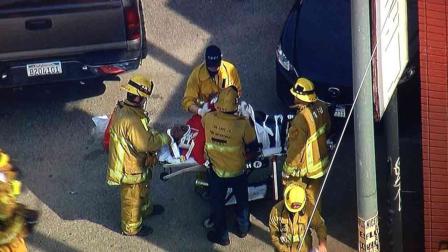 Los Angeles firefighters respond to the scene of a Metro Blue Line train crash on the 300 block of Washington Boulevard near downtown Los Angeles Tuesday, March 4, 2014.
LOS ANGELES (KABC) --
A Metro Blue Line train struck a vehicle near downtown L.A. Tuesday, injuring at least 13 people.
The incident occurred on the 300 block of Washington Boulevard just before 10 a.m.
Two people were listed in serious condition. Ten people were listed in fair condition, and one person declined medical treatment, according to LAFD spokeswoman Katherine Main.
The circumstances of the crash were under investigation. Travelers were experiencing delays of about 10 minutes, said Mark Littman of Metro.