http://www.worldbank.org/en/news/feature/2014/03/17/riding-a-bus-in-kathmandu-gender-and-transport-in-nepal
March 17, 2014
See website for a video.
Navigating the concrete jungle that Kathmandu is increasingly becoming is no easy feat. The city has seen a population surge of over 60% in the past decade alone, putting enormous pressure on its roads, especially the public transport system. Finding a way through the maze of buses, microbuses, tempos and taxis is a daunting task, not to mention the actual overcrowded, uncomfortable journey.
Considering that 83% of Nepali women are working and women amount to at least one third of the travelling public, it is especially important to consider how these difficulties affect them.
According to a new World Bank report,
Gender and Public Transport in Nepal
, the main reasons for using public transport are for work and education and the main criteria used to determine preference are speed and frequency. The preferred means of public transport is the
nilo
(blue) microbus, though many travelers also prefer tempos because of safety concerns in buses and microbuses.
Commuters noted the following as their primary concerns:
Overcrowding
Personal insecurity
Reckless & unsafe driving
Increased insecurity after dark
Problems travelling with children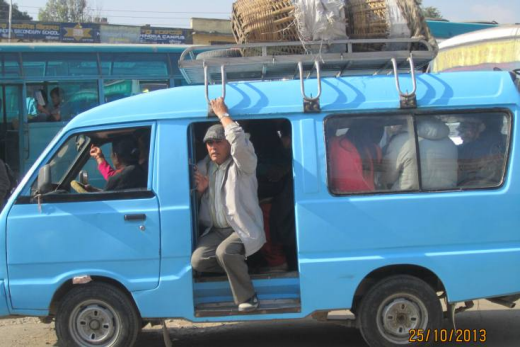 Do I want to put my child's life at risk? If I travel with my child I never take buses.
Young mother and office worker



Whatever the mode of transport used, the number one problem for all commuters is overcrowding. In their quest to maximize profits, drivers cram in passengers who are forced to endure "disgusting and sweaty" journeys. Overcrowding is blamed for personal insecurity which ranks second among commuters' concerns. One in three women and one in six men feel insecure on public transport. This includes the fear of pickpockets, sexual harassment and personal injury. Young women aged 19-25 years are more than twice as likely as all other age groups of women to specifically relate their feelings of personal insecurity to fear of 'inappropriate touching' with 43% noting this concern. In fact, one in four young women aged 19-35 years had had direct experience of this in the previous twelve months. The main perpetrators are middle aged men and more than half of all women surveyed said they would avoid standing or sitting next to a middle aged man while travelling.
Inappropriate touching is not only a problem for women however, as one in ten men who mentioned insecurity as a concern had also experienced inappropriate touching by other men. Men are also twice as likely as women to have directly experienced pickpockets and abuse from drivers and conductors.
Both men and women complained of reckless driving which includes not stopping fully to let passengers on and off, speeding and swerving and stopping erratically rather than at designated bus stops. Both men and women indicated they felt more insecure after dark, especially as street lighting is poor or non-existent due to power outages and poor maintenance. Travelling with children on public transport is also a major problem and many parents avoid this altogether saying it is 'frightening and unhygienic for them'. Sometimes they are refused travel, a situation also experienced by some persons with disabilities and elderly as, it is claimed, they cause delays getting on and off vehicles 'in a hurry'.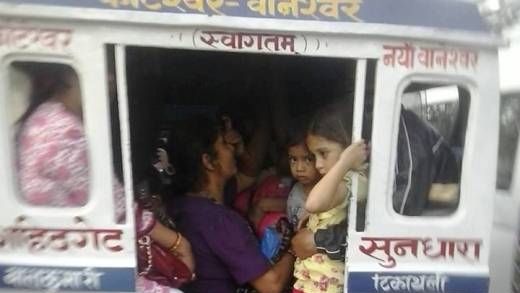 "Do I want to put my child's life at risk? If I travel with my child I never take buses," says a young mother and office worker. Sukriti Rana/World Bank
The report also cites examples like the Sajha bus company which was re-launched as a new cooperative venture in April 2012. Commuters appreciated the standard fares, bigger student discounts, more head room, well-behaved drivers and conductors, organized schedule of the Sajha buses.
The study was commissioned by the World Bank as part of research to feed into the development of the government of Nepal's National Transport Management Strategy. The study was conducted from September to December, 2013 with funding from Australian Aid.