http://abclocal.go.com/kabc/story?section=news/local/los_angeles&id=9488744
April 2, 2014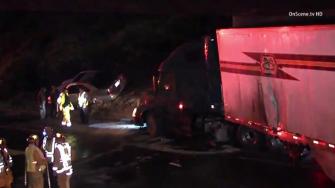 PASADENA, Calif. (KABC) --
Three separate big rig accidents shut down lanes on the eastbound 210 Freeway interchange in Pasadena for the second time in as many days.
Authorities say the lanes are closed until further notice after the crashes sent two people to the hospital.
The accidents were reported around 2 a.m. Wednesday in the transition road tunnel.
The cause of the accidents has not yet been determined.