http://www.neontommy.com/news/2014/07/dodger-stadium-express-metro-nightmare-or-gameday-savior
By Paolo Uggetti and Matthew Tufts, July 17, 2014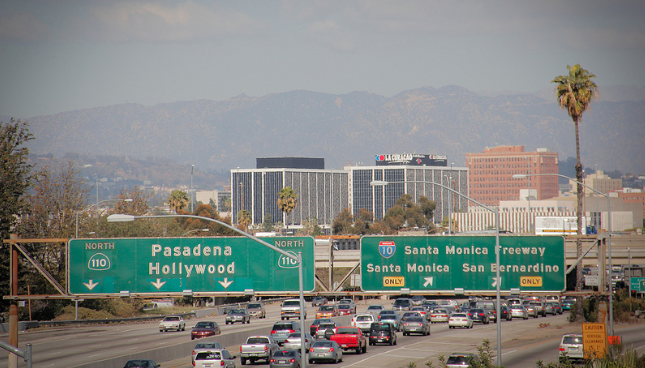 Rush hour traffic in L.A. is bad. But during a home Dodgers game it can become a nightmare.
Los Angeles sports enthusiasts have long been labeled as fair-weather fans. Dodger Stadium is famous its crowds that arrive in the third inning and leave by the seventh—a phenomenon most frequently attributed to an attempt by fans to avoid rampant traffic congestion in the parking lots and freeways that connect Chavez Ravine with the rest of greater Los Angeles.
Public transportation in the city is under the microscope, as the best engineers in the country try to unravel L.A.'s traffic conundrum. As most city-wide negotiations regarding light rail and metro extensions continue to move at the rate of rush-hour traffic, the Los Angeles Dodgers teamed up with L.A. Metro to try to provide a quick, efficient public transportation answer to Dodger fans: the
Dodger Stadium Express
.
The Express service has bee
n in existence since 2010, yet traffic still seems just as heavy getting in and out of the game. It begged several questions: Is the Express any faster? Do people actually use the service?
We sent two writers to a Friday night Dodgers game. Both started at Union Station—one took the Express, the other drove. Here are their stories:
Dodger Stadium Express: Matthew Tufts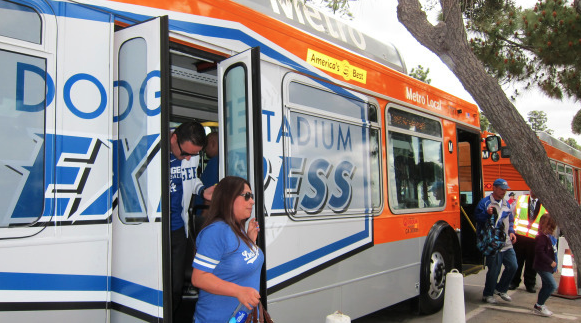 I arrived at the station at 6:34 p.m. a little later than we expected to start, but traffic had been heavy through Downtown to Union Station.
By the time I had found my way to the
Patsaouras Transit Plaza
(the Express leaves from Bay 3), it was nearing 6:40. Lucky for me, one of the shuttles was already there and about halfway full.
The
Express
runs from Union Station to Dodger Stadium an hour and a half before game time through the second inning, and then for return service for 45 minutes following the end of the game. Shuttles are scheduled to leave every five to 10 minutes, but drivers will wait longer for larger crowds.
Climbing aboard, I was reminded of the initial draw of the Express: a ticket to the game
counts as your fare
. (
No dealing with quarters or prepaying for a Metro card? Score one for the fans!
)
Right after I hopped onboard, the bus began to fill up very quickly. It's just a regular-sized Metro bus; expect it to be packed to capacity, similar to most of the city's buses.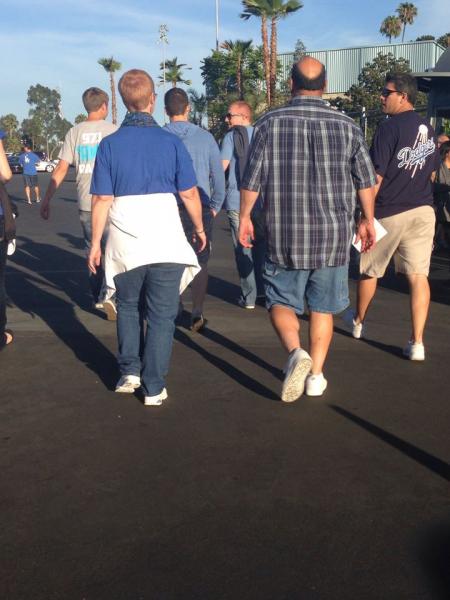 The first group of fans I met were an elderly couple, Paula and Mike Adkins. I was surprised to learn they were not from the area, nor were they even from California. They lived in Iowa and were on a vacation to Los Angeles. This was their second-ever Dodger game, and I was even more surprised to discover that they took the Express to the last one.
Since many diehard fans I know have never even heard of the Express, it seemed odd that two tourists had come across it and chosen to take advantage of the ride over a cab or a rental car. However, I soon learned that the couple frequently use public transportation on their visits to Los Angeles. I immediately apologized to them for the poor quality system and lack of rail and subways, but was taken aback by their response.
"We take public transportation every time we come here, and I think it's fine," said Paula. "Everyone complains here, but we don't have anything where we come from in Iowa."
By this time, the bus was packed with people standing in the aisle. We left at 6:44, quickly taking advantage of bus-only lanes by Union Station and restricted shuttle lanes by the stadium.
The crowd on the Express was about as diverse as the city of Los Angeles. People of all ages, ethnicities and appearances were packed together, with Dodger blue the only constant in the sea of people.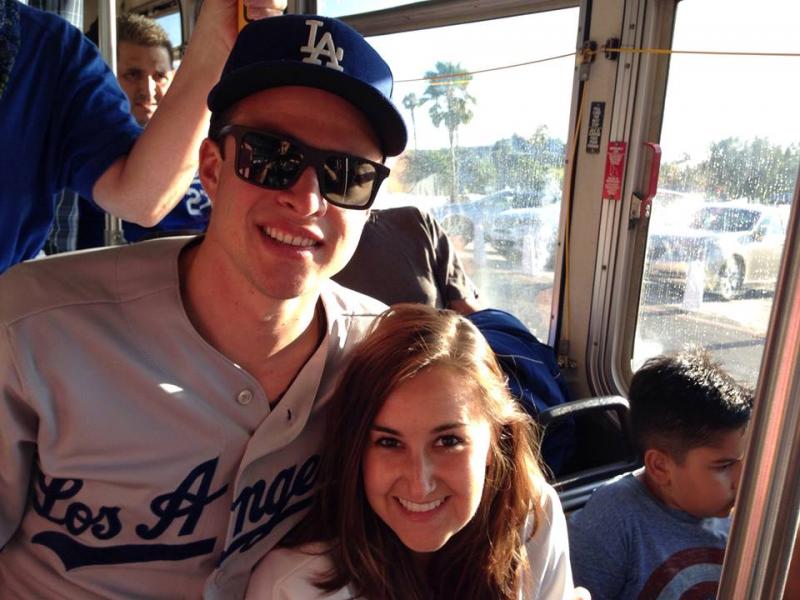 Michelle and Zach Roberts, a young couple from Long Beach shared a seat by the door. Both were decked out in Dodgers gear and spoke animatedly about the team.
Zach is a lifetime Dodger fan from Sacramento while Michelle, a recent University of Southern California grad originally from Arizona, says she was converted by her husband. The pair used to attend between 15 and 20 games a year, but have seen that number decline this year.
The commute from Long Beach to L.A. is so routine for the two, they can usually make it to the city in 30 minutes if they navigate well, according to Michelle. However, once they arrive in L.A., they say they it's about a 50/50 split between finishing the drive to Dodger Stadium and parking at Union Station. (
Note: Parking costs six dollars at Union Station for the duration of the game.
)
"Before there actually was an express lane, [riding the Express] was a little bit of a hassle," said Zach. "We'd decide once we were up here whether we wanted to waste time on the Express. But now that they have the actual, coned-off express lane for the buses, I'd say we prefer this."
Looking out the windows, I could see his point. We were moving much quicker than the surrounding traffic, racing by in a lane only used by shuttles to the stadium. Just looking at the line of cars we were passing seemed to give me anxiety.
"It's a little bit cheaper, no parking there and you don't have to deal with the hassle of going through traffic there, said Zach. "So there's not that stress when you go to the game."
We arrived at the stadium at 6:54 p.m., a mere 10 minutes after we had departed. The shuttle drove around to the field level gate by right field and the crowd poured out. By 6:56, I was in line with my ticket and could hear the National Anthem reverberating throughout the ballpark. I was in downtown 25 minutes before the game was slated to begin and I had not even missed the opening pitch. Seemed like the Express was the move to make.
***
Driving: Paolo Uggetti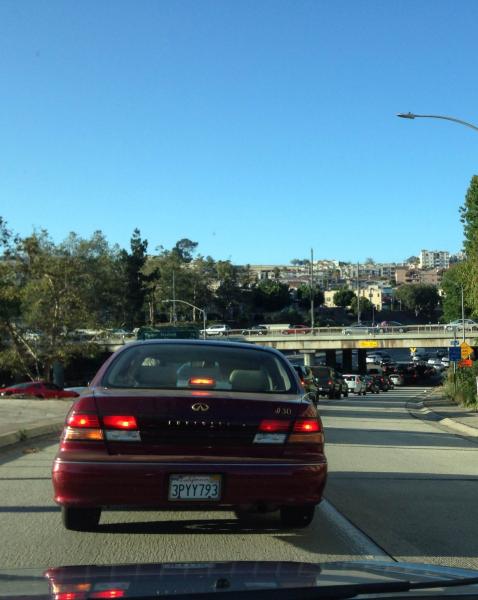 I think I speak for all of us when I say that if there is one bad thing about living in L.A., it is certainly the traffic. Especially rush hour traffic, and even more so on Dodgers game days.
When you factor in that Dodgers games are regularly scheduled for 7:10 p.m., traveling to Dodger Stadium by car can be quite the hassle.
I got a first-hand look at that experience when I drove from Union Station in downtown Los Angeles to Dodger Stadium on a Friday night for a game against the San Diego Padres.
Armed with my trusty Toyota Corolla, I left Union Station at exactly 6:34 p.m. I headed northbound on the 101 Freeway, where traffic was already starting to bottle up. Simply entering the freeway was a struggle and it quickly delayed my trip.
Soon thereafter, I had to find the lane that merged to the 110 northbound Pasadena Freeway that would take me to the stadium. This caused a few problems as traffic conditions made it difficult to shift lanes, lengthening my trip and stressing me out a bit. Getting into an accident in this mass of traffic would have been less than ideal.
After finally merging onto the 110 North, I found traffic to be equally bad and backed up. Thankfully, the Stadium Way exit was one of the first to come up once on the freeway. The freeway, especially the outer left lanes, had relatively cleared up at that point, but now it was the exit itself that inherited all the traffic as everyone was headed for the game.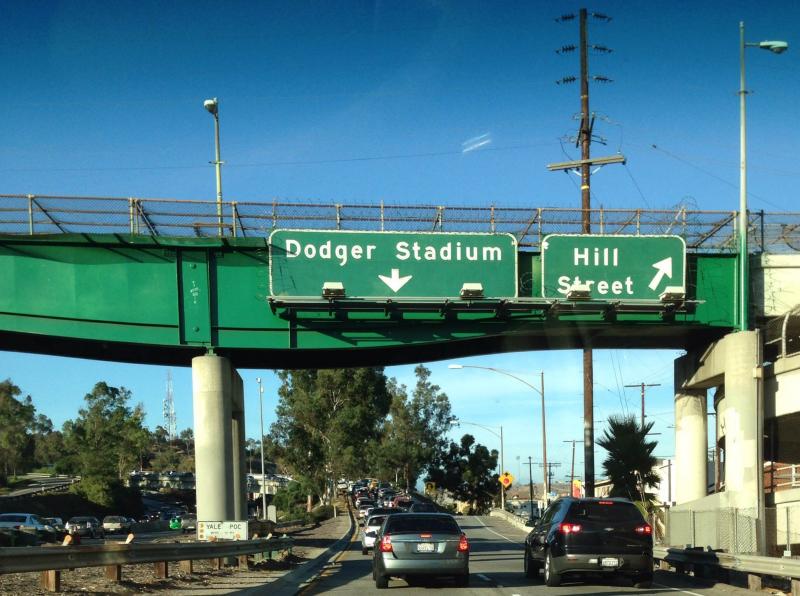 The exit traffic was stressful on its own, as drivers hurriedly tried to find the fastest way possible to arrive at Chavez Ravine in time for the game. The orderly traffic attendants and directors alongside the stadium helped keep everyone in line, but limiting cars to one or two lanes may have also contributed to the hectic traffic that usually surrounds the Dodgers' games.
Finally, after climbing a congested hill that stalled for about five minutes, I merged into yet another line to purchase parking and finally enter the lot. I entered through the south side by Gate A after purchasing a $15 parking ticket. At that point, I simply wanted to get to my parking spot, but it still took an extra five minutes to be directed through pedestrian traffic and into the actual lot on the far west side of Dodger Stadium.
I finally parked my car at 7:05 p.m. A two and a half mile stretch from Union Station to Dodger Stadium took me a grand total of 31 minutes to navigate.
It was quite hectic and stressful, but certainly an experience. Traveling anywhere from downtown L.A. at that particular hour would likely be no different, but spending 31 minutes in highly congested traffic to travel less than three miles to Dodger Stadium seemed like an unnecessary hassle.