http://citywatchla.com/8box-left/7224-the-latest-on-lax-metro-connector-progress-consensus-work-to-be-done
By Ken Alpern, July 18, 2014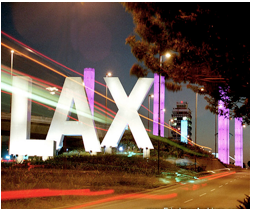 GETTING THERE FROM HERE-
As mentioned in my last
CityWatch piece
, the CD11 Transportation Advisory Committee met and heard from both LA World Airports and Metro earlier this week, and while there is a great deal of work to be done there is also a great deal of progress and developing consensus, to boot.
As always, the committee (comprised of grassroots leaders throughout the Westside) had an extraordinary amount of good questions and input, and they continue to impress and teach me about perspectives I would otherwise not have been aware of. There was some Westchester representation, including my new co-chair Matthew Hetz, a Westchester resident, a vocal transit activist and regular transit user.
Here are a few key take-home points (not all--just some--of them, because this is such a big topic):
1) The presentation was a single one that was delivered in two parts--LA World Airports (LAWA) and Metro are really on the same page, or at least are working mightily and historically to get to that same page--and the era where Metro and LA World Airports were rivals appears to be OVER.
Unfortunately, both the Federal Transit Administration and the Federal Aviation Administration must also sign off on any joint project.
2) There will be some who are troubled by, and who might never agree with, the idea that both a Century/Aviation station and a 96th/Aviation station for the future Metro Crenshaw/LAX is necessary. Suffice it to say that this is an excellent idea that embraces many of the fundamentals that those of us who've wanted a "Green Line to LAX" have fought for: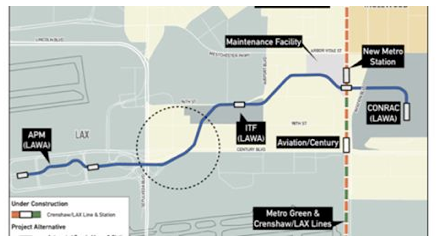 First, this second station accommodates LA World Airports' plans to develop a Consolidated Rental Car Facility (CONRAC) as well as an Automated People Mover that didn't back up against local hotels (who did NOT want the People Mover so close, but which will build walkways towards the People Mover for a connection). Metro really reached out to LAWA, particularly since the Crenshaw/Metro Line was already approved.
Second, the need for "redundancy" is critical for both safety/security reasons as well as the fact that the two stations do different things. Not everyone who works around LAX wants or needs to go to the Central Terminal Area (CTA), because the Century Blvd. Corridor is its own destination and jobs center. Yes, there is already a contractor and agreement in place for a Century/Aviation station, but both stations would always have been needed.
Third, now we have not one but two intermodal transportation centers--the aforementioned Metro 96th/Aviation station as well as the LAWA 96th/Airport Intermodal Transportation Facility (ITF)--to connect buses, cars, trains, shuttles and vanpools from all directions of LA County. How those two intermodal transportation centers are set up, and how they will accommodate commuters, is yet to be determined at this immediate time.
(It should be remembered that the Metro Crenshaw Line, which will link the Expo Line at Exposition/Crenshaw to the Green Line at Aviation/Imperial does not help Westsiders and commuters from the San Fernando Valley as much as it does commuters from the regions to the east and south--hence the need for more than one intermodal transportation center. Shall Westside commuters have to go east and double back west to the airport?)
Fourth, and this probably flies under most of our mental radars, most commuters using these trains and buses to LAX are not those flying in and out of LAX--they are the tens of thousands of people who work at or near LAX. The desire and time is now ripe to really develop along the Century Blvd./LAX corridor in both Los Angeles and adjacent Inglewood. The ability to create jobs to service trade and tourism is huge, and more than one station is needed.
3) The previous loop design for the Automated People Mover will be replaced with either a "scissors" or "spine" configuration, and moving walkways will be needed.
For those of us familiar with the drive through the CTA, it's nice if one is going to Southwest Terminal but lousy if one is going to United (Terminals 7 and 8)...so why repeat that lopsided experience with the Automated People Mover? Either a "scissors" configuration with half the trains going to the northern terminals and the other half going to the southern terminals will be chosen, or a central "spine" configuration in the middle of the loop will be chosen.
Signage and the need for moving walkways (automated horizontal belts that allow a person to "walk faster") is needed for both the disabled and those with luggage to get to their final destination/terminal, and were strongly advocated for at the meeting.
It was suggested by Marc Saltzberg of Venice that future motions of the CD11 Transportation Advisory Committee include choosing between the aforementioned "scissors" or "spine" configurations of the Automated People Mover, as well requiring all vans,shuttles and buses to drop off and pick up riders at the intermodal transportation centers at 96th/Airport (LAWA) and 96th/Aviation (Metro). The committee agreed, and will address these issues soon.
The LAX Northside development was also raised for discussion by Kent Strumpell of Westchester, in that there was insufficient transit access to this project--support for intermodal transportation options to both this project and to any future configured LAX was voted on and passed, but the two-station option for the Metro Crenshaw Line still raised significant concerns and doubts among those attending.
---
---
And support for a future north-south rail transit line linking the San Fernando Valley, the Westside and LAX remains as strong as ever, if the last CD11 Transportation Advisory Committee meeting is any indication.
In short, there is amazing progress and consensus between LAWA and Metro, and it might now behoove the grassroots and citizenry to "catch up" with the government--after decades of watching the government need to "catch up" with popular support for a Metro Rail/LAX connection. A final plan to be approved for the People Mover by LAWA is sought for by the end of this year, which is a pace that is historically breathtaking.
So the work remains--for the average LA County resident as well as for transportation planners--but there is plenty of reason for optimism that the long overdue "train to the plane" will become a reality...and sooner than one might have believed after a past era of non-responsive governmental officials. A big thanks goes out to those doing the work to make this happen, and it's hoped that the rest of us will follow their lead.