http://abc7.com/news/big-rig-crash-closes-lanes-on-210-west-in-pasadena/253129/
August 11, 2014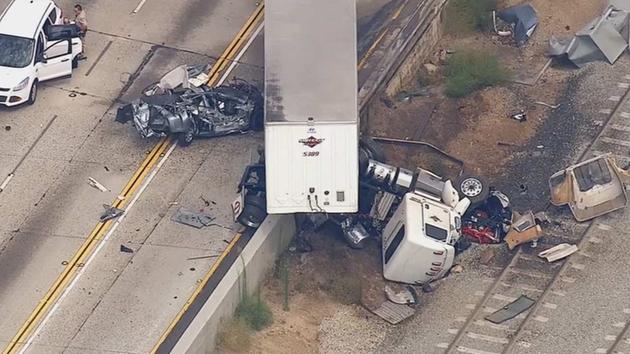 Police investigate a big rig accident on the westbound 210 Freeway in the Pasadena area on Monday, Aug. 11, 2014.
PASADENA, Calif. (KABC) --
An accident involved a big rig closed multiple lanes of the westbound 210 Freeway at Rosemead Boulevard in the Pasadena area at about 2:38 p.m.
The Pasadena Fire Department said there were three patients. A woman in the crushed car was able to get out of the vehicle. She was transported to Huntington Memorial Hospital with serious but non-life-threatening injuries. Two other patients sustained serious injuries but were not considered life-threatening.
The CHP issued a Sigalert for the HOV, 1 and 2 lanes of the westbound 210 east of Rosemead Blvd. Drivers are asked to avoid the area to prevent traffic backups. Alternate routes were suggested: I-605 south to I-10 west to I-5 north to the 2 to return to the I-210. Huntington Drive to Colorado or Foothill boulevards is also suggested.