http://www.bizjournals.com/sacramento/news/2014/08/05/private-investors-warming-to-california-high-speed.html
By Eric Young, August 5, 2014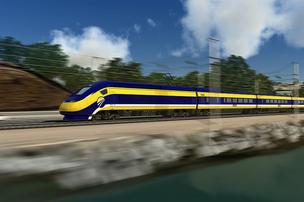 Private investors are starting to express interest in funding part of California's planned high-speed rail line, giving a boost to the $68 billion project.
Nine companies, mostly large construction, engineering and infrastructure firms that have worked on high-speed rail elsewhere, have written letters saying they are interested in financing part of what would be the state's largest-ever infrastructure project.
"We would be very interested in participating in the competition for the construction and financing of California high-speed rail projects," reads part of a letter from
AECOM
, a major engineering firm.
Other companies writing to bullet train planners include
Grupo ACS
, Sener,
Vinci Concessions
,
Siemens
, Railgrup, Sacyr, Acciona Concesiones and Astaldi SpA.
The
California High-Speed Rail Authority
said it expects more companies will step forward. "We fully expect this is just the first wave of private interest," said
Ben Tripousis
, the northern regional director of the High-Speed Rail Authority.
A recent state budget deal triggered the uptick in private interest: State lawmakers agreed to spend $250 million this year from the state's cap-and-trade program — money polluters pay to offset carbon emissions — on the bullet train program.
More significantly, lawmakers agreed to spend 25 percent of future cap-and-trade dollars on high-speed rail. The total cap-and-trade revenues through 2020 could range from $12 billion to $45 billion, according to a February report by the nonpartisan
California Legislative Analyst's Office
.
That steady flow of dollars from the state gave private investors confidence to look closely at California high-speed rail.
The
California High-Speed Rail Authority
is responsible for building the bullet train line. It is still too early to know what kinds of investments the rail authority will want from private funders. The state might ask private companies to provide loans that are paid back with interest. Or the state may want deals where private companies get a concession to operate a part of the bullet train for a period of time.
The interest from private investors comes closely after the bullet train won a significant court victory. An appeals court overturned a lower court ruling last November that had blocked California from selling $8.6 billion in state bonds for the project. It is not yet known if the appeals court ruling will be appealed to the state Supreme Court.
Other potential legal barriers remain. There are separate lawsuits pending that could impact whether the planned bullet train can travel between San Francisco and Los Angeles fast enough and whether the train can operate without a taxpayer subsidy.
Work on the first section of the bullet train line — a 29-mile stretch in the Central Valley — has begun. Construction crews are relocating utility infrastructure and building a bridge.
The first phase of the bullet train's tracks, running from Merced to the San Fernando Valley, is expected to be completed by 2022. The entire system, connecting San Francisco to Anaheim, will be done by 2028, according to the rail authority.