Barely half of American voters are turning out at the polls. Could making transit free on election day help?
http://www.citylab.com/commute/2014/11/will-free-public-transit-get-americans-to-voting-booths/382199/
By Sam Sturgis, November 3, 2014
Can free buses, subways, and trains strengthen our democracy?
Americans are going to the polls at depressingly low rates.
Only
57 percent
of registered voters participated in the 2012 presidential election. That figure is expected to be even
lower
for Tuesday's midterm election. And as states increasingly enact laws that
require
voters to present a photo ID at the voting booth, some argue voter turnout is being further suppressed. But officials in Minnesota are hoping turnout rates bounce back this year because of a new public transit policy.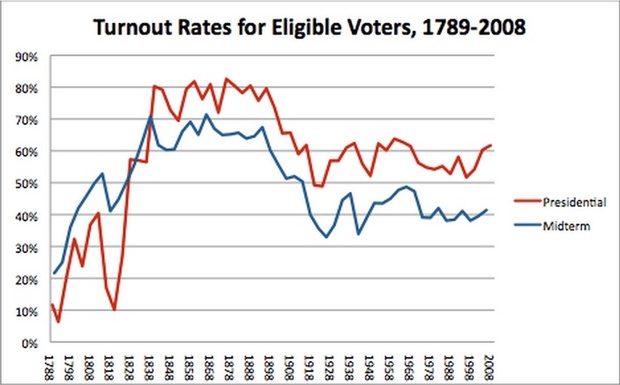 On Tuesday,
Metro Transit
—the Twin Cities' growing public transportation network—will offer bus, light rail, and commuter rail services free of charge. This is in response to a statewide law passed last year that requires Minnesota's cities to provide free public transit on national election days. This is pretty uncommon: Only a handful of major U.S. cities—including Dallas, Houston, Tampa, and now the Twin Cities—offer complimentary transit on election day.
Janice Winfrey, the City Clerk of Detroit, has been
lobbying
her city to adopt similar Election Day transportation measures. "I just think it needs to be part of the discussion regarding voter turnout and ways to increase it," Winfrey, who also serves as the city's chief election officer, says. Few Detroit voters have publicly complained about the financial burdens of traveling to their polling place, but Winfrey believes, "any way we can increase voter turnout is something we should look into."
The perceived, indirect costs of voting are frequently
cited
by political scientists as factors for low voter turnout. Getting to the voting booth costs time and money for travel; if those costs outweigh the perceived benefits of voting, it's likely a person will simply stay home. But what if cities, as Minneapolis will do on Tuesday, eliminate the cost of public transit on election day? Does it incentivize voters to make it to the polling booth, ultimately strengthening our democracy?
Unfortunately, the answer seems to be no—or at least understudied.
According to data provided by urban transportation networks, free transit services appear to have a negligible influence on the number of voters that turn out to the polls. Houston's
METRO
system has provided free public transit during general elections since 1992. Ridership during voting periods, however, generally increases by a mere one percent. In fact, ridership on election day has been so indistinguishable that exploring and "extrapolating the results were not worthwhile," a METRO official said by email.
Similarly, Dallas's public transportation network—
DART
—has provided free transit to voters for more than three decades. Officials acknowledged over email that an "increase in ridership on election day is minimal, if at all."
Tampa voters rely on their free public transit service more than others, but the results remain modest.
HART
—Tampa's public transit network—introduced a complimentary service starting in 2010, and voters have constituted about four to five percent of election day ridership from then through 2014.
Voters in Dallas, Tampa, and Houston are required to show a voter ID or registration card in order to get a free lift to the polls. This could deter some registered voters from getting a free ride (and from voting). The Twin Cities' free service, meanwhile, doesn't require riders to present any form of ID.
"It's not going to help if you've got a free ride down to the polling place and you don't have an ID," says Jim Gimpel, a political scientist from the University of Maryland. "That sort of neutralizes [its impact]."
Political scientists are generally pessimistic about the ability of free transit services to yield any increase in voter turnout. In the end, they say, people vote based on enthusiasm, not a free bus ride.
"If we just make public transit free on election day, maybe some would use it on the margin, but that's not the real cost of voting," says Adam J. Berinsky, a political scientist from MIT. "The real cost is getting people engaged enough in voting to go out and do it," Berinsky explains.
"Most of the research shows that for low turnout, the biggest problem is a lack of motivation," Gimpel agrees.
Still, a complimentary transit service does belong somewhere in discussions about electoral reform. If turnout is influenced heavily by enthusiasm, couldn't free transit send a signal to city residents that voting is important? Alan S. Gerber, a political scientist at Yale University, thinks such a policy could heighten the overall significance of election day.
"Making transportation free on election day is a clear statement that society values voting," Gerber says in an email. "This message, that voting is important…may be a significant impetus to vote over and above the turnout produced by lowered transportation costs."
This debate is far from settled. But keep an eye on the Twin Cities this election season—or at least on how full the free buses and trains are.