In many metros, young people today commute by car as often as they did in 1980.
http://www.citylab.com/commute/2014/12/these-numbers-challenge-the-notion-that-young-people-dont-drive/383431/
By Eric Jaffe, December 8, 2014
It's become an uncontested truth that young Americans dislike driving, and indeed, Millennials do seem
more fond of public transportation
than their elders are. But a
new Census tool
comparing 18-to-34 year olds now and in the past raises questions about just how much things have changed. In many major U.S. metro areas, young people today drive to work as often as they did in 1980, if not more.
Late last week, the Census released "Young Adults: Then and Now," an
interactive map
outlining social trends among 18-to-34 year olds at four different moments: 1980, 1990, 2000, and today (more precisely, the 2009-2013 American Community Survey). One of those trends highlights the share of this population that gets to work by car. Using the raw data, we took the 25 most-populated metros today and compared commuting figures of Millennials to those of young people circa 1980.
First, a quick frame of reference for the country as a whole. In 1980, 83.8 percent of young Americans got to work in a car or a carpool. Today, 84.5 percent of Millennials say the same. That's a very modest rise in the share of young adults driving to work—and it's a drop from figures in 1990 (85.6 percent) and 2000 (86.7 percent)—but it's an increase nonetheless.
Now let's drill down into the 25 major metros. True to recent wisdom on Millennial driving patterns, nine of these places showed a decline in car commuting among young people today compared with 1980. New York experienced the biggest shift, with a 9.4 percent decrease in car share that actually puts driving in the minority, followed by Boston (7.8 percent), San Francisco (4.6 percent), and Portland (4.3). Washington, D.C., Seattle, Los Angeles, Charlotte, and Miami round out the list.
Nine metros barely moved the commuting needle, with young car shares today falling within one percentage point of 1980 figures. Three of these metros saw car shares decline ever so slightly: Tampa, Houston, and Denver. The rest saw them increase a smidge: Atlanta, Detroit, Phoenix, Dallas, Philadelphia, Chicago—with Millennials in the latter two cities driving almost a full percent more despite considerable transit upgrades in the past 30 years.
The data also show that in seven metros, younger Americans drive to work at
greater
shares today than they did three decades ago. The biggest rise occurred in San Diego (8.1 percent), followed by San Antonio (4.8 percent) and Baltimore (3.6 percent). Car-commute shares among young people in Minneapolis, Riverside (California), St. Louis, and Pittsburgh all jumped between 1 and 3 percent over the years.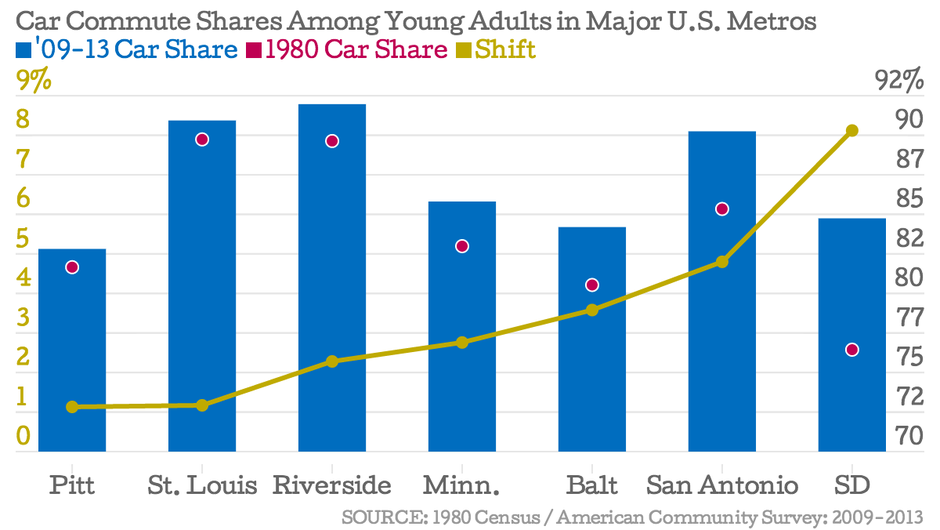 So the notion that Millennials are spurning cars across the board is
clearly oversimplified
. In many big cities, young people today are commuting in much the same way they did three decades ago—tape decks notwithstanding.
That's not to say
Millennial driving habits
aren't changing. They
clearly are changing
for a number of reasons (
incredible shrinking incomes
perhaps chief among them). Carmakers recognize as much; hence, the
rise of the dashboard selfie
. From the perspective of city mobility, it's at least encouraging that many of the metros pushing hardest for alternative transportation options have seen the biggest declines in car commuting among young people—but it's also
important not to forget
that even within this transit-friendly segment of the population, in every place but New York, most Americans still get to work by car.