http://www.bizjournals.com/seattle/news/2014/12/12/mcginn-era-tunnel-study-proving-true-bertha.html
By Steve Wilhelm, December 12, 2014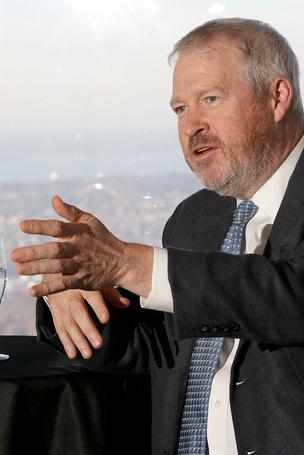 Former Mayor Mike McGinn worried about tunnel risks before the project started, and warned of Seattle's liability if things went wrong.
Maybe former Mayor
Mike McGinn
was prescient about the risks of Seattle's underground tunnel after all.
A 2010 study he commissioned
said the tunnel was at a level of "high" risk, both in terms of the technical complexity of the project, and the soils through which it must drill.
"Taken collectively, a prudent reviewer would must conclude that the 'success' of this bored tunnel (on time and at budget) is questionable," wrote Boston-based engineer
Thom Neff
, who prepared the study.
At the time the study was dismissed
as a reflection of the anti-tunnel bias of the McGinn administration, and McGinn's protests were overridden by the city council, and more importantly by the Washington state Department of Transportation, which was driving the project. Voters approved the tunnel project in 2011.
Now, though, problems have mounted around the mired Seattle tunnel project. With Bertha stuck underground for a year and the ground settling around it, it's worth looking back at the Neff study.
Bertha's original problem, which stopped the giant tunnel machine a year ago, had to do with something very mechanical that Neff never mentioned: Bad seals around the main bearing that allowed grit inside and damaged the bearing.
But the mounting complexity of issues since then, with the ground sinking around Bertha before engineers have even managed to raise the cutter head for repair, suggest that Neff was onto something.
As readers may remember, McGinn consistently opposed the tunnel on the grounds that the risk was too high, and that Seattle might have to pay for any cost overruns.
As McGinn
said in PSBJ interview at the time,
he also contended that too much money was being spent to benefit people with cars who could afford tolls, which was draining resources from others of greater need.
Neither McGinn nor Neff were available for comments at press time.
The 32-page Neff study was essentially a review of Seattle Department of Transportation documents and data on the proposed tunnel. Much of it is technical in nature.
But it's at the very bottom of the study, in Appendix C, where Neff rated the risk of the project, that things get interesting.
Technically, he said the machine's diameter, as the largest in the world, warranted a "high" level of risk, a five out of five.
Also rating a high level of risk – a five – was the underground material. Neff wrote what he called the "geologic setting" was "Highly complex, sticky clays, flowing sands, abrasive materials, large boulders."
And third, the high water pressure at the tunnel depths, which seems to be proving a problem now, rated "above average" risk at a four.