Fears that new buses and trains will bring "unsavory people" persist, despite evidence to the contrary.
By Eric Jaffe, December 11, 2014
Last month, metropolitan Atlanta celebrated an enormous victory for public transportation when suburban Clayton County
voted to join
the MARTA transit network. The move is not only historic—Clayton has rejected MARTA since the agency's inception
back in 1971
—it's vital to the region's mobility. MARTA will start running buses in Clayton next year (the county's own service stopped in 2010) and will plan
a rail or rapid bus route
for the future.
But despite the overwhelming support for joining MARTA among Clayton residents, with
three-quarters
having voted in favor of the action, not everyone is comfortable with the change. At a
public meeting
led by MARTA there last week, at least two locals reportedly spoke out that they didn't want their neighborhoods to be part of any new transit routes, for fear of drawing criminals to the area. Here's how one woman described her experience with the previous county bus service, via the
Clayton News Daily:
"Unsavory people." Huh. Let's extend the full benefit of the doubt here and grant that these words refer to criminals, and only criminals. For all we know, this woman actually witnessed someone get off a bus, commit a crime, then get back on the bus and explicitly thank the driver for making it all possible—hence earning the description of being, for this and no other superficial reason, an "unsavory" person.
There's a history
in Atlanta of transit opponents worrying that new buses and trains will export criminals from the city to the suburbs. The notion was
considered a factor
in Gwinnett County's decision to soundly reject joining MARTA
back in 1990
, for instance. It's also been a discussion point regarding where to place transit stations in areas that
are
served by the system; here's one Atlanta resident quoted in the
Atlanta Journal Constitution
in 1997 (via a
secondary source
):
"Having MARTA [rail] increases the chances of crime. The criminals can get off the train and break into your home and get back onto the train. I don't think that's as likely to happen on buses, where they have to walk past the driver to get on board."

Of course, Atlanta is not the only place where such perceptions persist. Similar fears are voiced in communities across the United States while debating whether or not to improve public transportation. To give one recent example, a leading transit opponent in Troy, Michigan, openly referred to public transportation as a
"mugger mover."
And in theory, sure, new transit routes could give criminals access to new areas and new victims.
But in actuality, that notion is little more than a myth—wholly unsubstantiated at best, and an awful pretext for prejudice at worst.
Some studies have gone so far as to show that not only does transit not increase crime, but it may actually
reduce
crime in an area. Recent work has found that to be the case along the
Lynx light rail system in Charlotte
, and the
SkyTrain rail system in Vancouver
. Perhaps there are more eyes on the street. Perhaps would-be criminals used the better job access provided by new transit to gain legitimate employment. Perhaps investments around a station led to general improvement in quality of life.
Or perhaps the whole concern was sorely misguided in the first place.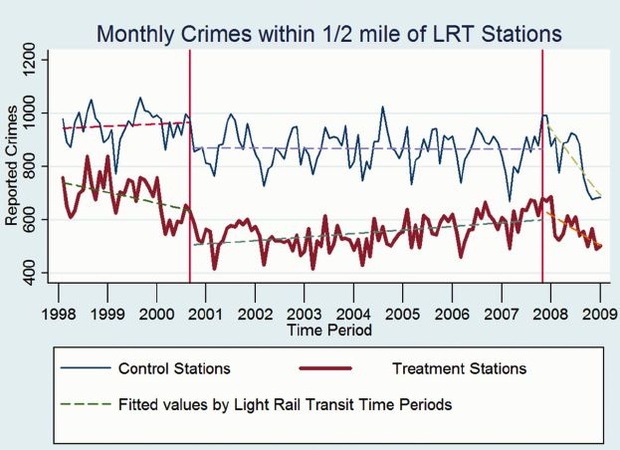 That's not to say the question of whether transit encourages crime is completely settled. Social science rarely works so cleanly. Some studies have been inconclusive; some have even given (
admittedly cautious
) support to the transit-crime link. These caveats aside, a skeptic might still wonder how appropriate it is to apply findings from one metro area to another. But it so happens that the transit-crime question has been studied directly in Atlanta at least twice—and in both cases, the results offer very little reason to fear a connection.
In a
1996 study
, Theodore Poister analyzed crime around two relatively new MARTA rail stations, Kensington and Indian Creek, at the easternmost end of the Blue Line. He tracked 12 types of crime in the 3.5 years before and the 18 months after each station opened, over an impact area within 10 to 15 minutes of the stations. The baseline crime rates were notably higher in Kensington, an area with greater commercial development and general activity just inside the I-285 loop that circles Atlanta, than in Indian Creek, a more residential place just outside it.
Poister found that if MARTA expansion had any effect on crime rates at all, this effect was "marginal, rather than dramatic." Burglaries showed no real change over time: They rose a bit in Indian Creek once the station opened but had been on the rise anyway, and they actually dropped once Kensington opened. Larceny did seem to rise in both places, but car theft fell after Indian Creek opened and declined over time in Kensington despite an initial spike. Robberies showed very little change at all near the stations once MARTA service began.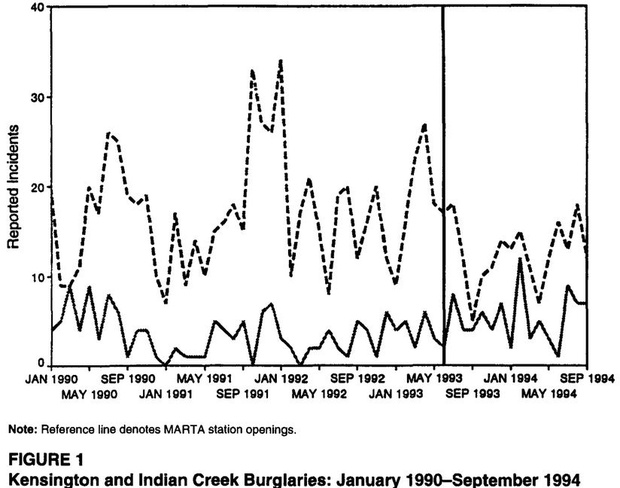 In subsequent analyses, controlling for things like seasonal variation, Poister reached similar conclusions. A few crimes did see a bump just after a station opened, but these initial spikes did not hold up over time, and in fact were followed by a decrease in rates over the ensuing months—eventually falling back to pre-transit levels. Only three crimes failed to level off: larceny and vagrancy in Kensington, and burglary in Indian Creek (which, again, had been on the rise anyway).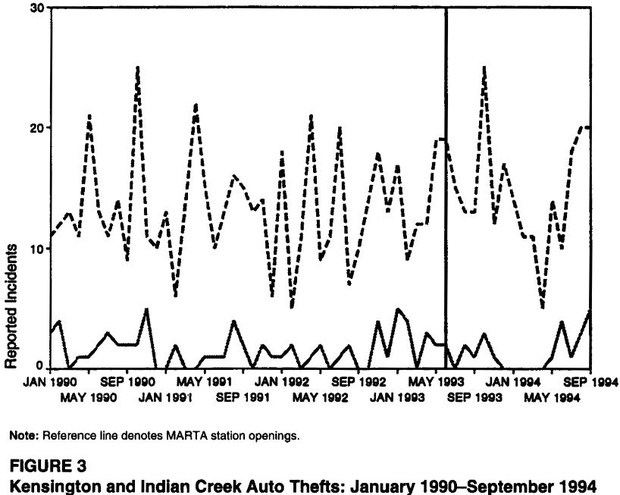 Poister concludes that any increase in crime that did follow transit expansion "would appear to be relatively slight and short-lived":
[T]his study does not present conclusive evidence that the opening of MARTA stations in Kensington and Indian Creek was causally responsible for any increases in crime.

A
2003 study
, conducted by Keith Ihlanfeldt, looked at crime in Fulton and DeKalb counties, home to 31 MARTA stations in the early 1990s. Ihlanfeldt did find some connection between transit access and increased crime in central-city—and, in particular, poor central-city—neighborhoods. But in the suburbs, Ihlanfeldt found that transit had no effect on crime in black neighborhoods and had
reduced
crime in white ones, leading him to conclude that "fears expressed by suburban residents over station-induced neighborhood crime are unfounded":
It is ironic that rail access is actually found to reduce crime in the representative white suburban neighborhood, because most of the opposition to rail transit has come from white suburban residents. This opposition, however, may only superficially have to do with concerns over crime. The real motivation may be racial bigotry (Bayor 2000).

So for any Atlantans truly afraid that new transit brings new crime, the evidence is there to ease your minds. At most, the work done to date warrants a little extra security in the months just after a station opens, particularly in disadvantaged central-city neighborhoods—a strategy that would seem wise even in the absence of any relevant research.
As for Clayton County, MARTA
Police Chief Wanda Dunham
tells CityLab (through a spokesperson) that agency officials plan to go on a "comprehensive tour" of the proposed bus routes with local police to get a clear sense of any safety needs. MARTA will also continue to engage in a dialogue with the community about the new service. But Dunham, specifically citing what studies have shown, adds that "the premise that transit exacerbates unlawful activity is false."
Words to savor.