Meet Transfix, a start-up that fashions itself "Uber for trucks."
http://www.citylab.com/tech/2015/01/the-trucking-of-tomorrow-is-here-and-its-a-huge-win-for-city-traffic/384672/
By Eric Jaffe, January 21, 2015
Take a look at the map below. It shows 25 trucks in New Jersey traveling to pick up 25 loads of goods over the course of a single day using a traditional industry approach: one that manually pairs drivers and freight. A few matches are short and efficient, but many require drivers to go well out of their way. The result is 1,752 "wasted" miles that create unnecessary traffic congestion and perhaps even lead to making those goods a little bit more expensive down the line.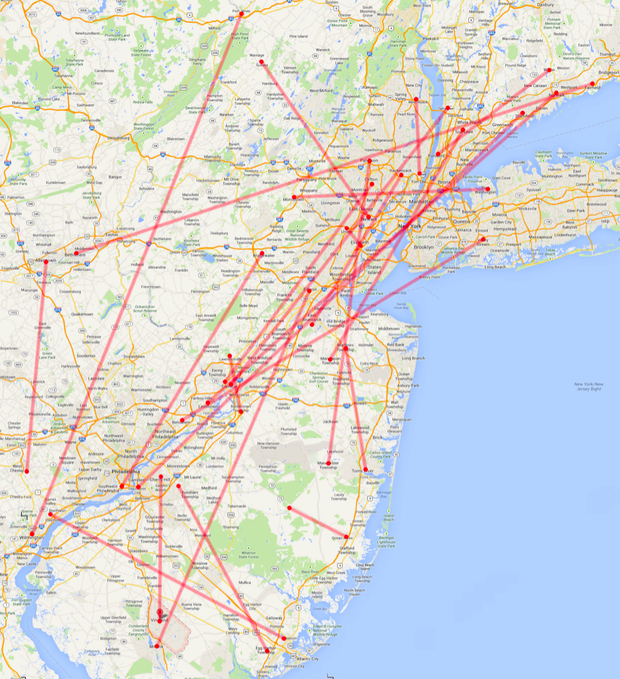 Now the next map is the same day as managed by a
start-up called Transfix
, which pairs drivers and loads using an automated matching system. Those 1,752 empty miles have been cut to 274. A driver in Port Jervis, toward the top, travels to nearby Sussex rather than trekking across the state to Wilmington. He's less tired, the shipper can move onto a new load, commuters in the area face less traffic, and consumers across the region are happier.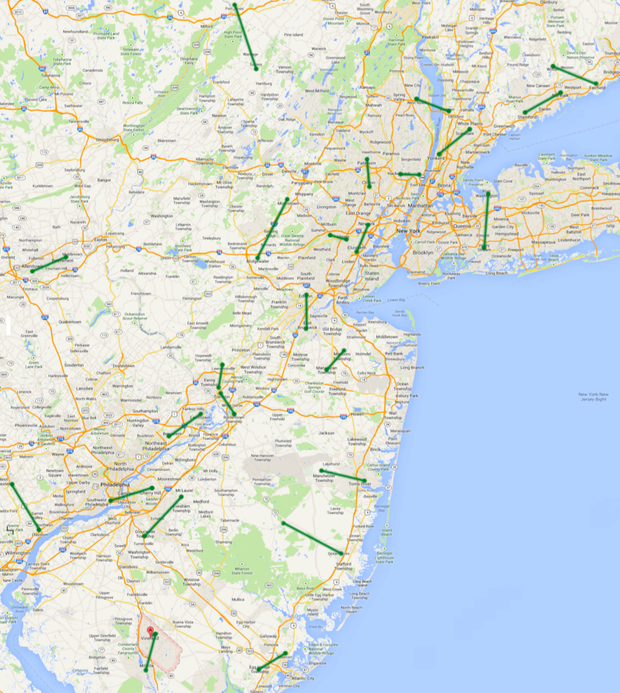 Expand that efficiency to the two million or so commercial trucks traveling through cities and along interstates across the country every day, and you'll begin to understand just how big this could be.
Transfix is a digital freight marketplace that CEO and co-founder Drew McElroy hopefully but not naively calls the "Uber for trucks." Last week the company won the
Six Minute Pitch contest
for transportation start-ups held at the annual meeting of the Transportation Research Board. The previous winner,
TransitScreen
, has since gone on to big things, and with nearly $2 million raised to date and Barnes & Noble an early adopter, Transfix is already charting its own course for success.
At its core, Transfix is a logistics company. The traditional style of matching drivers here and loads there through a series of phone calls takes a freight broker several hours, says McElroy. Even after all that effort trucks end up with the types of inefficient matches shown above; using a rather generous assumption of 8 percent empty miles, McElroy calculates that U.S. commercial trucks drive 19 billion needless miles each year, clogging roads, wearing down infrastructure, and burning fuel.
Transfix automates the entire process. If Barnes & Noble, for instance, needs to ship a load of books from Indianapolis to New Jersey, it enters the shipment into the Transfix system, which then scans the pick-up vicinity for available drivers. The system then scores each driver based on empty mileage from their position to the load, waiting time until load availability, and past performance. The best match gets pinged for the job.
From there everything is handled by smartphone. The Transfix app registers a digital shipment contract, supplies dynamic navigation to the destination (taking into account severe weather and traffic), and tracks driver progress in real-time. By comparing expected travel time to a delivery appointment, the system knows when a truck falls behind schedule and takes corrective action—from simply texting the driver to sending a breakdown alert. Upon arrival a driver uploads a photo of the proof-of-delivery, triggering payment and starting the cycle anew.
"We're able to manage all these things proactively," says McElroy.
Here's a look at the interface from the user's perspective, using a trial trip that Transfix made from Long Beach, California, to Miami, Florida (McElroy notes the cell phone dead zones along U.S. interstates):
Freight logistics aside, metro areas also stand to benefit greatly from such a system. Goods movement can be a
forgotten problem in urban transportation
: not only does it contribute to congestion and pollution, but it produces massive mobility complications at key hubs such as Los Angeles and Chicago. Former Chicago (and D.C.) DOT chief Gabe Klein, a judge for the Six Minute Pitch contest, called Transfix a "fascinating" concept whose impact could extend beyond intercity trucking to urban street networks.
"This is an exploding market," said Klein, who voted for Transfix (along with both other judges), during the contest. "And in this case not only do I think it's a huge market that's antiquated and old school that needs to be updated, but I also think there are other use cases in terms of local delivery service."
McElroy is quick to point out there are plenty of benefits at the personal level, too, especially with regard to truckers. Transfix currently has a roster of more than a thousand drivers, he says, all vetted through a three-tier process. The automated system reduces the time they spend hunting for loads, a costly practice under new federal rules that cap daily driving, and it pays drivers within 24 hours rather than several weeks, which is often how long it takes to return a physical proof-of-delivery document to home base.
"Truck drivers are a unique bunch, but by and large they are genuinely wonderful, down-to-earth, friendly people," says McElroy. "Anything we can do to make their lives easier and make this a better process is something we embrace."
In some sense, McElroy has been part of the industry since he was in the womb, when his father started a trucking company named Andrew's Express for his son-to-be. After years working alongside his parents for a subsequent business, he broke off to focus on Transfix (with co-founder Jonathan Salama) in August of 2013. McElroy says he got a call from a logistics manager at Barnes & Noble within 15 minutes of updating his LinkedIn profile, and had freight loads to manage before hanging up.
After raising seed money in August of 2014, Transfix moved into a New York office and began building the team. (They've raised nearly $2 million to date, he says.) They're already doing several hundred thousand a month in revenue—taking a cut of that, a la Uber. McElroy says the next step is a push for Series A funding sometime this year.
"We're trying to do something pretty serious here," he says. Cities should be just as serious in paying attention.