In cities like Philadelphia, a remarkable 64 percent of the people riding public transportation are thought to be women.
http://www.citylab.com/commute/2015/01/more-women-ride-mass-transit-than-men-shouldnt-transit-agencies-be-catering-to-them/385012/
By Sarah Goodyear, January 30, 2015
The majority of the people who use public transit in the United States are women. They account for 55 percent of overall ridership across the country,
according to a 2007 survey from the American Public Transportation Association
. In some places, the proportion of women riders is even higher.
Jim Saksa, transportation reporter for the website PlanPhilly, has crunched some numbers and found that
Philadelphia leads the nation in this department
: according to a recent survey by SEPTA, the city's transportation agency, a remarkable
64 percent of the people riding Philly's subways and buses are women
. Chicago was second in his accounting, with a 62 percent female ridership on the MTA, while Washington, D.C., New York, and Boston all came in at 60 percent.
While differences in methodology mean the results aren't strictly comparable (as Saksa writes, it isn't so much apples to oranges as "mandarins to tangerines"), the numbers are striking. The most recent tally of self-reported female commuters from the
American Community Survey
again shows Philly in the lead, with 58.5 percent (Baltimore is close behind). Nationwide,
50.5 percent of transit commuters are women
, even though they comprise only 47 percent of the workforce.
There's likely no single answer to why women take mass transit more than men, or why Philadelphia has a particularly female transit ridership. "There are a dozen things going on," says Saksa, who says the big number of women riders jumped out at him when he began reviewing SEPTA data soon after starting his PlanPhilly job. "It's a perfect storm of sorts. Our largest employers are industries that are particularly dominated by women—clerical, retail, health. Wage inequality probably plays a part. We can only just point out a bunch of correlations here."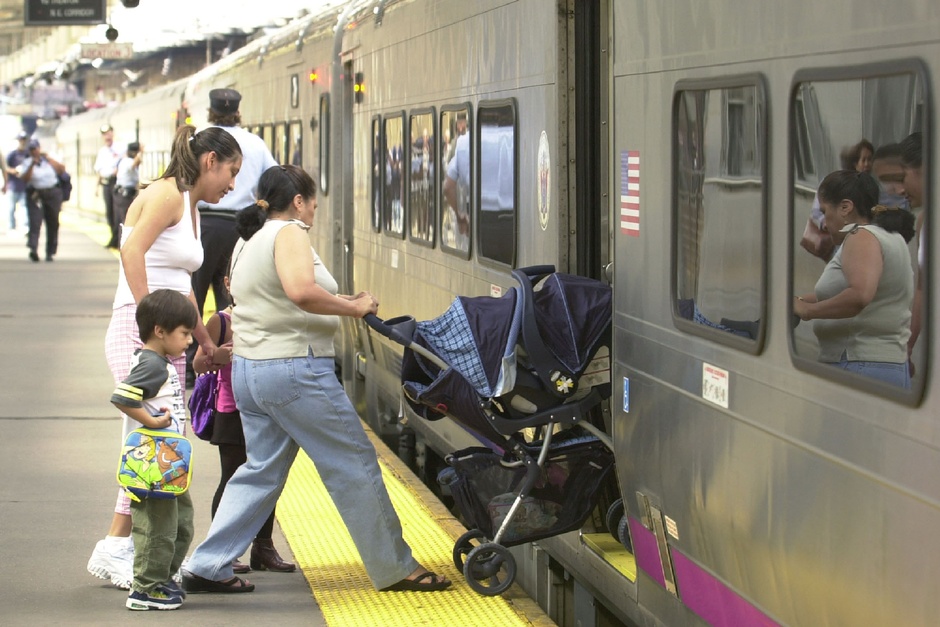 According to Anastasia Loukaitou-Sideris, a professor of urban planning at UCLA, women predominate on mass transit around the globe. It's a phenomenon, she says, that is mostly not a matter of choice. "I don't know about Philadelphia, but there are many studies that indicate there are women who are riding transit out of necessity," she says. "Women are captive transit users. If there is one car in the family, it is often driven by the man in the household. Men are much more likely to use motorbikes or mopeds than women. Taking a taxi is often too expensive to be an option. For many of these women [public transit] is the only transportation mode."
Yet Loukaitou-Sideris, along with many other researchers, has found that as much as they are compelled by circumstance to use transit, women are also often wary of it for reasons of personal safety.
"Women are more frightened to use transit," she says. "For many of them this is always in the back of their minds, safety, being on my own at night. Even in taxis. If it is a woman alone, it is always a kind of consideration." As she and co-author Camille Fink wrote in a 2008 paper published in
Urban Affairs Review
, "fear has some significant consequences for women and leads them to use precautionary measures and strategies that affect their travel patterns."
Those concerns are something that women are often left to cope with on their own. As Ann Friedman
wrote here last year
, despite the persistent worries of women about transit safety, those concerns are rarely directly addressed in the United States.
In
her 2008 paper,
Loukaitou-Sideris reported that "[f]ew researchers, transit agencies, or policy makers have directly asked women passengers about their safety needs or sought to identify women's proposals and preferences regarding safe and secure travel." She and her colleagues surveyed U.S. transit agencies to find out what, if any, strategies they employed to address the particular safety concerns of women.
Of the 131 operators that responded to the survey, only three said they had any safety efforts that were specifically tailored toward women, although two-thirds of respondents expressed the opinion that women had special vulnerability when riding transit. (A spokesperson for SEPTA said that agency did not have any specific safety policies tailored to women, but that the agency had safety as a general priority for all passengers.)
By contrast, Loukaitou-Sideris says, transit agencies in several European countries, as well as Australia, Canada, and Japan, have launched programs specifically targeted at women's safety, based on the concerns expressed by women themselves as assessed by safety audits and surveys of female passengers. "Since our survey covered more than half of all the large and medium-sized transit operators in the United States," writes Loukaitou-Sideris, "we have to sadly conclude that the United States is considerably behind other countries on the issue of transit safety for women."
Of course, safety from crime is not the only consideration for women on transit. One of the reasons that women predominate on transit, researchers believe, is that they are most often the caretakers of children and responsible for many of the household errands. Better accommodations for strollers as well as other measures to increase the ease of traveling with children could no doubt dramatically improve their lives.
The lack of such accommodations can have tragic consequences, as the case of Raquel Nelson showed. Nelson, a young mother with several children in tow, was coming home from a long and arduous bus journey in the Atlanta area in 2010. After getting off the bus directly across the street from her building, three children and her grocery shopping in tow,
Nelson crossed the street to get home
, traveling with other pedestrians across several lanes in a spot where there was no crosswalk. Her four-year-old son was hit and killed by an impaired driver who then fled the scene.
Nelson was prosecuted and convicted of vehicular manslaughter because she didn't use the crosswalk, which was located a third of a mile away (none of the members of the all-white jury were regular users of public transportation). After years of legal battles, Nelson's conviction
was eventually dropped
and she ended up with a ticket for jaywalking. But similar life-threatening conditions for people traveling with children—usually women—remain common across the United States.
A similar case occurred
, also in the Atlanta area, late last year.
Marketers of many, many consumer products focus on women—quite naturally, because women are the ones doing most of the buying for families. Imagine if more transit systems in the U.S. started doing the same. The result would no doubt be transit systems that would be better for, and more attractive to, everyone.