http://www.bizjournals.com/dallas/news/2015/01/21/private-high-speed-rail-has-eminent-domain-powers.html
By Nicholas Sakelaris, January 21, 2015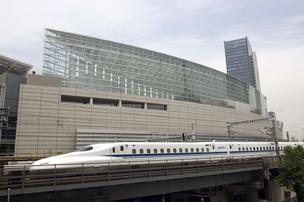 Texas Central Railway's privately funded bullet train will need to buy private land as it makes its way from Dallas to Houston. For landowners in the path of the tracks, the first-of-its-kind project will have eminent domain powers as a last resort.
The $10 billion project would use Japanese N700 Shinkansen trains capable of going more than 200 mph. More than 60 trains a day could be making the 90-minute trip between Dallas to Houston by 2021.
The majority of the route will follow existing utility lines or freight tracks. But the tracks will also cross private land. Click on the photos above to see the routes being considered as part of the federal environmental feasibility study.
When asked about its eminent domain powers Monday, the company updated its website to clarify its stance and provided an emailed statement.
TCR cites the Texas Landowners Bill of Rights, which says "Your property can only be taken by a governmental entity or private entity authorized by law to do so."
TCR, a Texas-based company with offices in Dallas, Houston and Washington D.C., qualifies as both a railroad company and an interurban electric railway company, giving the company certain rights and powers, including eminent domain, the company posted to its website.
The ability of a railroad to use eminent domain is "well established and understood in Texas law," officials from TCR responded via email.
Officials said eminent domain would be used as a last resort after voluntary options have been exhausted, TCR posted on its website.
"The project is committed to respecting and honoring the private property rights of our fellow Texans," TCR posted to its site. "This reflects our personal values and simply makes good business sense. As such, the project is committed to negotiating and settling with landowners fairly and transparently and in a way that seeks 'win-win' solutions."