A dig at Republican critics, a kind-of dig at martini drinkers, a call for state unity, and more.
http://www.citylab.com/commute/2015/01/the-8-best-jerry-brown-lines-from-californias-high-speed-rail-groundbreaking/384271/
By Eric Jaffe, January 7, 2014
Tuesday's
groundbreaking ceremony
in Fresno for California's long-awaited high-speed rail line had all the fixings of fine political ceremony. There was plenty of rhetorical back-slapping from federal and local officials (much of it deserved), and lots of comparisons to other great American infrastructure projects (the Hoover Dam and the Golden Gate Bridge, to name two). There were construction workers in hard hats who wouldn't be needing them (except perhaps to guard from heavy praise). There was even a hashtag for the kids: #iwillride.
There was a
labor leader
referencing the Irish contribution to America's great railroads while speaking with a heavy brogue. There were fun facts: two railroad tracks can carry as many passengers in an hour as 16 lanes of freeway, according to
FRA chief Joseph Szabo
, and the cranes and bulldozers being used to build the line will be low-emission
Tier 4 vehicles
—the cleanest on the market—said
EPA chief Gina McCarthy
. There was the requisite hyperbole that this is the "greatest infrastructure project built in the history of this nation," and while that's not the case, it's surely one of the greatest in recent times.
Just about the only thing the groundbreaking was missing, at least so far as anyone following the
live feed
from across the country could tell, was the actual breaking of ground, though the dignitaries on hand did sign one of the rails.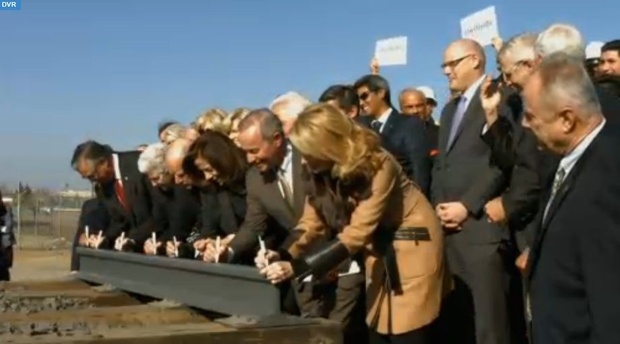 But the man of the hour was California Governor Jerry Brown. As
Dan Richard, chair of the California High-Speed Rail Authority
, rightly put it: "when future generations reflect on this great endeavor," it's Brown's name that will be remembered by history. His brief 10-minute talk was full of pointed digs at critics, intriguing hints at speeding up the project timeline, and heartfelt pride in the almost-nation-state that is California—all delivered in a charmingly casual style. We've collected our eight favorite Brown lines from the ceremony here.
"When I first was elected governor, I had some doubts about this project. ... But my wife Anne, who used to be a Republican, when she said, no, you gotta take this money and you gotta build, the fact that she was a Republican gave me a lot of confidence."
Brown opened with a well-earned shot at
conservative naysayers
, from the local and federal levels alike, who have doubted the project all along (and continue to do so). Of course, California became the recipient of high-speed rail money passed on by Republican governors in Florida, Wisconsin, and Ohio, so he could have taken the chance to thank them, too.
"People do get pusillanimous. I wanted to use that word because that's the adjective I'm going to affix to all the critics. You can go look it up right now on your cell phone. Means weak of spirit."
Brown got all Merriam-Webster on the crowd here. For the record, we did look up pusillanimous on our cell phone (the Dictionary.com app) and got a slightly different primary definition: "lacking courage or resolution." But his works, too.
"By the way, there will be a big price on carbon by the time these trains start rolling. That's inevitable. So there's a real competitive advantage."
Two key points here. First, higher charges on carbon emissions will indeed hit cars and planes harder than trains, giving rail a relative cost advantage. Second, the more money that California generates from carbon, the more it can fund the rail's completion and expansion. That's because Brown and the state legislature recently secured
25 percent of cap-and-trade revenue
for the high-speed rail line moving forward—a sum that could eventually deliver billions of dollars a year.
"There's no anti-texting rule on the trains. So that's another reason [to ride]. If there's no other reason, it's you can use your iPhone. And enjoy it. And you can have a martini or whatever you people drink."
Well, hopefully there will be many better reasons to ride high-speed rail than the fact that you can text on your iPhone. (And will people even be texting come 2030?) But indignantly calling martini drinkers "you people" out of nowhere? That's gold, Jerry. Gold!
"There's also a really big barrier that puts a limit on how many cars—that's called congestion. You can only have so many lanes. You can't keep paving over prime agricultural land. You can't take property off the tax rolls any more than you have to."
California may be known for awful congestion, especially around Los Angeles, but it's also a national leader in terms of trying to reign in highway expansion. Its recent overhaul of environmental guidelines related to transportation should make
transit projects much easier
for every metro area in the state.
"Critique is the engine of the academy, of the newspaper industry, and a lot of our American culture. We need to be critiqued. Whatever the hell that word means. I don't know why they don't just say criticized. It sounds better. But we listen, and we change, and we modify. But we still can build."
Critique, via the Dictionary.com smartphone app (secondary definition): "a criticism or critical comment on some problem, subject, etc."
"It's not that expensive! We can afford it! In fact, we can not not afford it, as we look at building a future that really works."
Brown tried to put the high cost of the bullet train in perspective by explaining that the line will last 100 years and that California's economy generates over $2 trillion a year—making the $68 billion cost of high-speed rail a long-term drop in the bucket. Occasional CityLab contributor Yonah Freemark offered a more visual perspective a
few years back
at his
Transport Politic
blog, in service of a similar point (the numbers have changed but the idea holds true):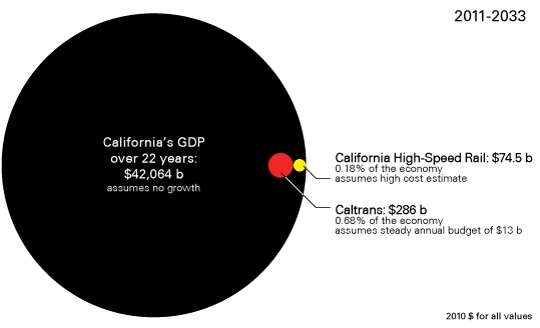 "What is important is the connection that we are rooted in our forebears and we are committed and linked to our descendants. The high-speed rail links us from the past to the future, from the south to Fresno and north. This is truly a California project bringing us together today."
And hopefully tomorrow, too.