CCA Event Brings Together Industry Leaders to Discuss Gridlock and Solutions
http://www.ladowntownnews.com/news/how-to-solve-downtown-s-traffic-problems/article_17826288-b94f-11e4-852e-1bdd5cf83378.html
By Eddie Kim, February 23, 2015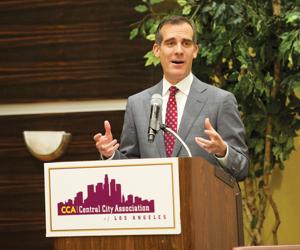 DOWNTOWN LOS ANGELES - Downtown is quickly becoming a hub of technology, new business and innovation. Yet when you're mired in gridlock on Spring Street, staring at a sea of red taillights, it can feel like the neighborhood is stuck in the transportation dark ages.
Leaders in transportation, mass transit and technology came together on Thursday, Feb. 19, to discuss and predict the future of traveling in and around Downtown. The "L.A. Fast Track" conference was hosted by the Central City Association at the L.A. Hotel.
Seleta Reynolds, general manager of the city Department of Transportation, was bullish on the community's potential.
"Downtown is where I think L.A. is going to establish itself as a national leader in transportation," said Reynolds, who took over the department in August after being hired by Mayor Eric Garcetti.
"People here are open and ready for the kinds of investment and 21st century infrastructure that we can make."
Participants in a panel discussion addressed the need to move away from car-centric planning and refocus on ways to diversify travel in a dense urban center. Reynolds, who moderated the panel, pointed to Broadway, where driving lanes have been trimmed and the sidewalks widened.
It is currently in a "dress rehearsal" phase, but Reynolds is optimistic about the results and what they could mean for both residents and businesses. She said studies show that streetscape improvements can boost revenues by 5%-12%.
"Downtown is a fantastic place for us to start," she said.
Another point of discussion was the proposed $270 million Los Angeles Streetcar, which is currently undergoing environmental review. The 3.8-mile project propelled by 14th District City Councilman José Huizar would help connect regional transit (light rail, for example) to local transit (buses) in an efficient and effective way, said Steve Ortmann, vice president of streetcar project manager URS Corp.
"We've spent 100 years figuring out how to get more cars through Downtown at the expense of our communities and the built environment and accessibility," Ortmann said.
He also expressed optimism that the streetcar would get a dedicated lane, rather than sharing it with other vehicles, which some studies have shown boosts traffic efficiency.
Garcetti, who delivered the conference's keynote speech, addressed the importance of innovation and risk-taking. He also pointed to a telling statistic: The city averages 1.1 persons in a car at any given moment. If that was bumped to 1.6, Los Angeles wouldn't have a congestion problem, he said.
"Traffic is perhaps the most vexing issue and the one we lose the most productivity and dollars and sleep over," he said. "The potential for [Downtown] to be the center of solving transportation problems and being a model for L.A. is more robust, more fertile than ever before."
What could such innovation look like? Alan Clelland, a senior vice president at transportation consulting and engineering firm Iteris, championed the idea of shared driverless cars that roam the streets. It makes no sense, he said, for "your second-most expensive purchase" to sit idle for 22 hours of the day.
Meanwhile, Kathleen Penney, vice president of the Washington, D.C., consulting firm CH2M Hill, discussed the construction of a 27-mile bike path along the city's Anacostia River, saying it has become a valued transportation resource as well as a recreational feature.
Such changes will come with pushback, Garcetti said, but he urged attendees to believe in the city's transportation potential.
"There will always be counterarguments. 'Why are we spending all this money? You're trying to force me out of my car. Can't you just have more parking spaces?' We've had that philosophy for many years," Garcetti said. "Can we all just say it's a failed philosophy?"