The makers of the ELF believe their enclosed, three-wheeled, low-carbon vehicle is the perfect transportation compromise.
http://www.citylab.com/commute/2015/02/is-the-car-of-the-future-actually-a-trike/385225/
By Iza Wojciechowska, February 6, 2015
Rob Cotter with an ELF

(Organic Transit)
Rob Cotter sits in his small office on a side street in Durham, North Carolina, in a baseball cap and sweatshirt, as the sounds of incessant drilling and people yelling "horn check"—followed closely by a tinny beep—press on around him.
Bright green and orange ovoid frames stand on the floors and hang from ceilings all around the workshop, where tiny pedal-driven, solar-powered vehicles called ELFs are being built late into the evening. Cotter seems remarkably down-to-earth for someone who's planning to take over the world.
Two years ago, Cotter launched
Organic Transit
, a startup that designs, builds, and sells the ELF, an "electric, light, and fun" vehicle that's essentially an enclosed recumbent
tricycle
. With an optional electric- and solar-powered motor, the ELF can go up to 30 miles per hour. Though it comes with headlights, turn signals, a cargo space that fits more than a dozen bags of groceries, a roof, and (soon) doors, it's legally a bike.
The ELF requires no driver's license and can travel on bike paths or lanes and in any weather. Perhaps most importantly, the company estimates that one ELF can prevent as many as six tons of carbon dioxide from entering the atmosphere annually, if it's used in place of a car.
"There is nothing more polluting than driving our cars each day," Cotter says. "As individuals, we are limited as to what we can effectively implement, but we can change how we behave. Getting out of your car and using your body along with a solar assist is the most powerful thing you can do."
A standard ELF costs $5,500, though with add-on features, the average price is around $7,200. Organic Transit has sold about 450 ELFs since it launched—one of those to car aficionado Jerry Seinfeld, Cotter admits with a smile. The other 449 are all over the map.
Some ELFs have been sold to individuals who use them to commute to work, to drive to farmer's markets to sell their wares, or to exercise. Others are sold to companies or corporations: Nearby Duke University bought several for use by the campus police, and about 20 other universities around the country are using ELFs on campus. Restaurants use them for delivery. A nurse service uses them to visit patients. Google has three on its campus in Silicon Valley.
Currently, ELFs are only manufactured in Durham, but within the next year, Organic Transit says, ELFs will be built and distributed in Fiji, New Zealand, and Belgium. Closer to home, the company aims to open assembly and distribution centers in Palm Springs; San Jose; Naples, Florida; and Seattle. Soon, Cotter hopes to be producing and selling 1,200 ELFs a year—nearly tripling the output of the past two years combined.
"We want millions of these to be all over the planet," he says, and there's no doubt in his mind it will happen, especially as Organic Transit expands its offerings. This year, the company will release a new cab-and-chassis ELF model called the Ox. Larger than a standard ELF—but still three-wheeled and still a bike—the Ox can function as a pick-up truck that can hold 800 pounds or as a taxi holding up to three passengers.
Also in the works are prototypes for a four-wheeled ELF, a cargo-focused van, an aerodynamic sport model with higher horsepower, and a three-wheeled, all-electric motorcycle model that will seat three, have a 250-mile range, and go up to 100 miles per hour.
"We are really filling that space between a bicycle and a car," Cotter says. "How many different types of vehicles, how many different purposes, how many intentions can we find solutions to and not use a car anymore?"
But with the ELF's relatively steep price tag, it might not be so easy to build a society where everybody drives one. After all, the environmentally conscious can—and do—ride bikes at a fraction of the cost and don't have to worry about leaving their bikes outside. And while it can replace a car in some ways, an ELF poses a challenge when it comes to longer distances or highways.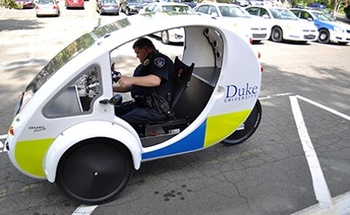 It seems likely that ELFs will continue to sell, but unlikely that they'll be lined up in private driveways—at least not right away. Using ELFs in bike-sharing fleets or at transit stops seems like a logical first step and a reliable solution to the problem of the "last mile," when commuters who take a train or bus must still get from their final stop to their front door.
In fact, Cotter anticipates that more than half the ELFs that Organic Transit sells will be to companies or as parts of fleets. The company is also developing an app called ELF Share that Cotter hopes can revolutionize the way we get around. ELF Share aims to connect a network of about 30 people, with each network having access to one ELF. Members of the network coordinate the ELF's usage, maximizing its potential and minimizing their own carbon footprints.
Organic Transit hopes to deploy an ELF Share program in Durham soon, as well as in the nearby Research Triangle Park, where a new residential community is being built for employees of surrounding tech and medical corporations, which would sponsor the local ELFs.
Jeffrey Miller, president and CEO of the
Alliance for Biking & Walking
in Washington, D.C., says he's "a little skeptical that something like [ELF Share] can be widely adapted enough that there's a dent in the freight loads of this country." Nevertheless, "I think the ELF can be a wonderful thing in many instances, and we certainly welcome it," he says, mentioning that he has friends who are happy ELF owners.
One of them is Dick Chase, who lives in Damariscotta Mills, Maine. Chase, who is 70, says it used to upset him to run quick errands by car because of the fossil fuel toll, and as he got older, biking with cargo seemed less than appealing (or safe). "As soon as I learned about the ELF I knew it was just what I wanted … It is just perfect for my situation and I use it for all my erranding for most of the year," he says.
tential and minimizing their own carbon footprints.