The dominance of New York, and the decline of bus ridership.
http://www.citylab.com/commute/2015/03/2-notes-of-caution-on-americas-record-mass-transit-year/387349/
By Eric Jaffe, March 10, 2015
The saying about a Monet—that's it's lovely from afar but messy up close—also applies to the annual ridership statistics released by the American Public Transportation Association. The 2014 figures
that came out Monday
are no exception.
At the broadest level, everything looks great. Americans took 10.75 billion mass transit trips in 2014, up from the
10.65 billion
taken the year before. APTA
calls this a ridership "record"
that's higher than any annual total in 58 years. Since 1995, public transportation ridership has indeed grown 39 percent, almost double the population growth over the same time period. And the overall U.S. ridership trend inched upward even in the face of plunging gas prices.
The picture still looks good as we start in on local success. APTA says 18 local agencies set ridership records. Minneapolis light rail use jumped 57 percent on the strength of its new Green Line. Subway use increased in 8 of 15 cities (led by San Francisco's 6 percent rise). Commuter rail increased 3 percent across the board, with huge bumps in Salt Lake City (16 percent) and Seattle (10 percent).
That's all very encouraging for city mobility, but some of the finer details give pause. APTA's
own historical figures
show total transit trips much higher from 1912 to 1956 than at present, calling the use of "record" into question. Ridership shifts
often lag
gas prices by several months. And transit trips per week are still
much, much lower
than in the past—about .65 for 2014.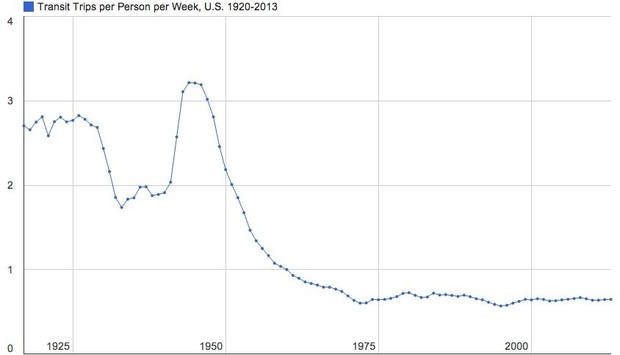 Then there are two bigger notes of caution: The overwhelming distortion of New York City, and the disturbing decline of the bus.
New York Accounts for the Vast Majority of Trips
In evaluating the APTA report last year, transit scholars David King, Michael Manville, and Michael Smart wrote in the
Washington Post
that while U.S. transit trips increased by 115 million from 2012 to 2013, they'd risen by 123 million on the New York subway and bus system.
They continue
:
In other words, transit use outside New York declined in absolute terms last year. This fact shows how crucial public transportation is to our largest city and how small a role it plays in most other Americans' lives.

Things weren't quite so bad this year. APTA figures show 101.1 million new transit trips across the country from 2013 to 2014. We tally 98.2 million new trips from metropolitan New York alone—or 97 percent of the total. Here are the numbers by agency:
New York City Transit (subway and bus): 89,084,600 new trips
New Jersey Transit: 4,752,300
New York City DOT (ferry): 1,350,100
Long Island Railroad: 1,303,400
Metro-North: 1,117,200
PATH: 358,200
Staten Island railway: 243,500
The total dives a bit if you prefer to remove New Jersey Transit, but the take-home message is the same: America's transit ridership goes as New York City goes. That's not necessarily a bad thing.
New York is the biggest, most transit-intensive place in the U.S., and should reflect the lion's share of total use. But it does call into question whether the city is truly a transit model for other U.S. metros to follow, or an outlier that doesn't really apply.
The Decline in Bus Ridership
More concerning from the national perspective was the big decline in bus ridership. Americans took about 60.2 million fewer bus trips in 2014 compared with 2013—down a little more than 1 percent. This was especially true in the country's biggest cities: ridership declined in metros with populations between 500,000 and 2 million, as well as in those above 2 million.
But trips fell by 17.2 million in New York alone. Other big cities that experienced a decline included Los Angeles (down 3 percent), Miami (3 percent), and Detroit (nearly 14 percent), Minneapolis (nearly 4 percent), Philadelphia (almost 3 percent), and Milwaukee (nearly 7 percent). Chicago
bus use fell
on Pace suburban buses (2.7 percent) and city CTA buses (8 percent).
Again, some cities are heading in the right direction. Bus ridership is up 4 percent in San Francisco, more than 5 percent in Portland, Oregon, 1.6 percent in Boston, and 2 percent in Seattle. Bus use rose nearly 3 percent in Atlanta, and should rise more in 2015, as service expands to Clayton County.
Any single year makes not a trend, but APTA's
historical figures
show a consistent drain on bus ridership compared with rail. Buses became the majority transit mode in 1948, and the share of bus riders relative to all transit riders rose steadily over the years, peaking at 71.6 percent in 1976. Since that time the share has fallen; in 2014, bus trips accounted for less than half of all transit trips—49 percent.
This pattern is troubling insofar as it reflects underinvestment in critical city bus service (and the absence of a higher,
socially appropriate cost
of driving). The tools exist to make buses
as attractive as rail
: dedicated lanes, all-door boarding, transit signal priority, smarter system configurations. Better still the necessary infrastructure is already there in the form of road capacity. How cities use this canvas will decide what type of mobility portrait we're really painting.