Car use was up in 2014, but there's still plenty of evidence we've hit "peak car."
http://www.citylab.com/commute/2015/03/driving-in-america-is-approaching-a-new-normal/388421/
By Eric Jaffe, March 23, 2015
The Federal Highway Administration recently released U.S.
driving data for 2014
, and at first glance the numbers call into question the whole notion that America has reached "peak car." Total vehicle miles traveled were up 1.7 percent on the year—surging
2.5 percent
in the second half of the year. U.S. driving closed 2014 within a bumper's length of the all-time high reached in 2007, and appears to be trending up.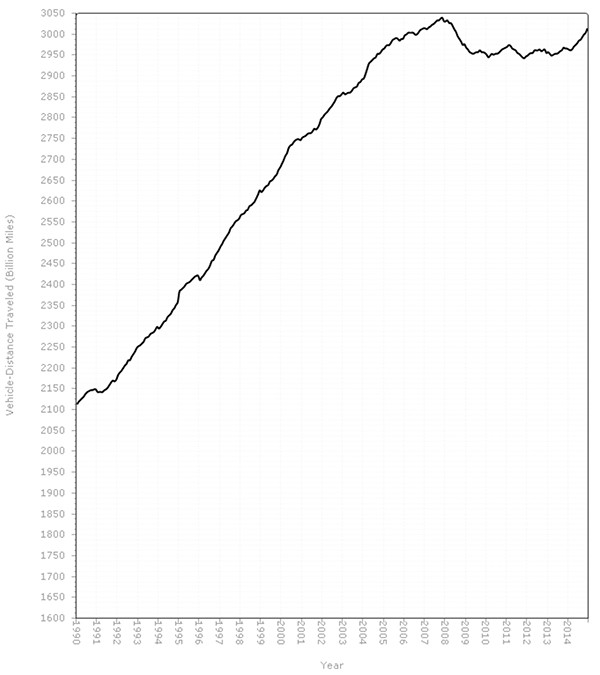 It's not hard to account for the latest driving spike. The economy has rebounded,
gas prices have plunged
, and
car-reliant suburbs
have grown at a faster pace than city centers
in some metros
. More jobs is great, but that also means more commuters, and the overwhelming majority of Americans
still drives to work
, whether it's the most convenient travel option or the only one.
So the trends clearly show that Americans are driving more than they did a few years ago. But that doesn't mean
calls of "peak car"
missed the mark. Eric Sundquist and Chris McCahill of the State Smart Transportation Initiative
point out
that vehicle miles traveled per capita (which rose at a slower rate than total driving in 2014) remains well off its 2004 high—6.6 percent off, by their calculation.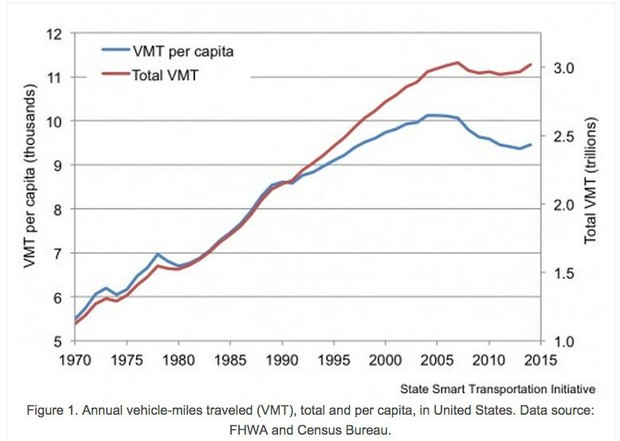 Instead, Sundquist and McCahill believe
there's a "new normal" of American motorization
: lots of driving, sure, but slower growth of car use than in the past, and likely some declines moving forward.
The strongest point in their corner is that the connection between driving and economic expansion is far weaker today than it's been historically. The next chart says it all on this count. Sundquist and McCahill report that in previous decades GDP and vehicle miles went hand in hand. But that changed circa 1995. From that point on, if you used GDP to predict car use, you would have overestimated driving mileage by a wide margin—about 22 percent in 2014.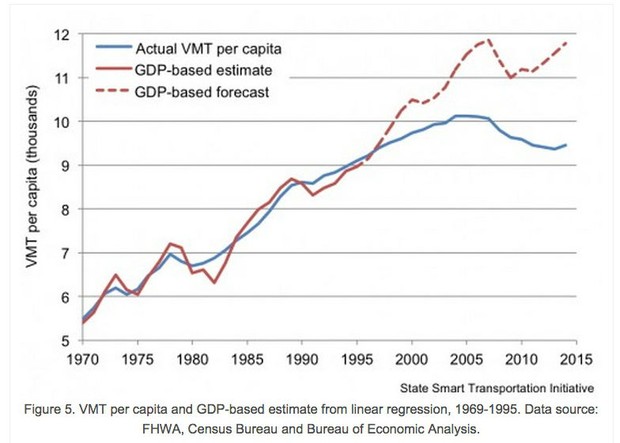 The decoupling of VMT and GDP isn't just a national phenomenon. Wonkblog's Emily Badger has shown similar trends to be true
at the state level
, and they've held at the city level, too. (One
recent study
of 98 U.S. metros found "virtually no significant causal relationship" between driving and economic activity in either direction.) That means economic growth no longer relies on (or leads to) people hopping into their car to get to work or the store—at least, not as strongly as it has in the past.
What's harder to figure out is just why driving and economic growth are playing this unchained melody. Via email to CityLab, Sundquist and McCahill point to a number of "big factors" that might have weakened the traditional connection. These include the rise of walkable places, where economic growth thrives precisely because there's less driving; stagnant wages, which leads to less disposable income to buy a car or take a taxi; declining car use among Boomers and
new travel preferences among Millennials
; and marginal changes in commuting habits related to transit use or
working from home
.
Might we add one more to the list: the maturity of the American road network. In most U.S. metros our highways already connect all the key points worth connecting. The huge economic benefits of new access to undiscovered lands are no longer as great as they once were.
Whether or not "peak car" has arrived might seem like mere semantics; either way, transportation patterns are clearly changing. But insights into driving trends are critical for plenty of practical reasons. They shape discussions about highway policy (namely, whether to
maintain roads or expand them
), transportation funding (how and when to replace the failing gas tax), and urban development (whether car use
reflects the failure of smart growth
or the need for more of it). Normal can be boring, but it's also the measuring stick for everything that's not.