http://citywatchla.com/lead-stories-hidden/8617-it-s-back-to-the-future-for-our-latest-greatest-commercial-corridor-lax-and-century-blvd
By Ken Alpern, March 13, 2015
GETTING THERE FROM HERE-There's been an extraordinary amount of progress in creating a MetroRail/LAX connection from both LA World Airports and Metro, and to create opportunities for convenient drop-offs and pick-ups at LAX. An
excellent article
by Neal Broverman
summarizes the plan to streamline and offer a variety of LAX access points via a remote rail system...but there's more to this than meets the eye. This plan doesn't just make sense ... it makes dollars and cents.
While the valiant attempt of Mayor Garcetti and the City of L.A. to host the 2024 Olympics didn't work out, the potential of a new commercial corridor at and/or near LAX can't be forgotten...or ignored.
The City of Los Angeles has a bad, bad, BAD habit of losing golden opportunities to create environmentally-sustainable job centers, and both LAX and the adjacent Century Blvd. corridor has the potential for explosive job growth.
The concept of a Consolidated Rent-A-Car Center (CONRAC) with a freeway connection, and both a Metro station at 96th/Aviation and an Intermodal Transportation Facility to accommodate commuters from cars, buses and trains to/from LAX, all tied together via an Automated People Mover (APM) to connect to the Central Terminal Area, is one that is the result of years of exhaustive and collaborative efforts between the City of LA, LA World Airports and Metro.
It's certain and understandable that critics will complain about the lack of a direct connection between the Metro Crenshaw/LAX Line and the Central Terminal Area, but no idea was left unevaluated--if anyone wants to blame someone or something for this lack of a direct connection, then...BLAME THE MAP! LAX lies over a mile to the west of the rail right of way (which is north-south) to be used by Metro for its Crenshaw/LAX Light Rail Line.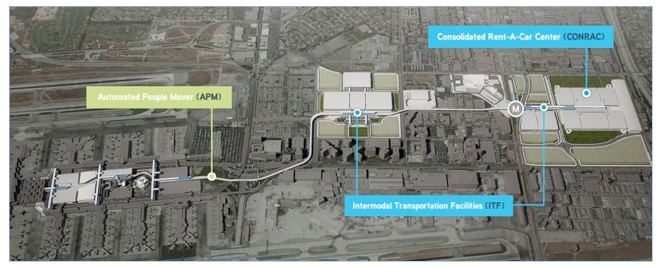 Which is why an Automated People Mover was always in the works, and always desired by Metro.
The Metro Crenshaw/LAX Line is an excellent north-south Expo-to-Green-Line connection (someday to be extended to the Wilshire Subway to achieve its true potential), but a second east-west line (in this case, an Automated People Mover) with greater capacity and more 24-7 service than a Metro Line was ALWAYS mandatory.
The connections between the People Mover and the Central Terminal involve fast-moving walkways that are wide enough for both standing and walking pedestrians in each direction, and are both covered/climate-controlled and with beautiful open windows to enjoy the Southern California weather.
And although others would argue that the current People Mover scheme is too bare-bones, it should be remembered that LA World Airports had to pony up $2 billion, and Metro had to pony up $300 million, to allow this plan to see the light of day.
The CD11 Transportation Advisory Committee did weigh in (not always with unanimity, but mostly so) on this plan, in that first-rate moving sidewalks/walkways, wide and fast, were critical in allowing this transportation plan to work.
Ramps that allowed options to elevators and escalators are also recommended (thanks to my CD11 Transportation Advisory Committee co-chair Matthew Hetz, who uses transit every day and is all too aware that mechanical devices break down periodically), and an artistic investment to establish LAX-iconic lighted pillars at the newly-approved People Mover/Metro station at 96th/Aviation was also urged.
And ... oh, yes ... the committee strongly urged naming the new Metro station/People Mover connection at 96th/Aviation "LAX Transit Center" or at least something that has the term "LAX" in it, because that's where the LAX access point for tourists and commuters will be from a regional perspective.
Yet there's another station adjacent to the 96th/Aviation station that is already in the process of being built: the Century/Aviation station, which was to be the original access point but which now is relegated to a second, critical aspect of this Crenshaw/LAX Metro and LAX APM scheme: jobs, jobs, JOBS!
It's no secret that the Century Blvd. Corridor is a huge hotel/industrial jobs center, and even the airlines themselves offer a small army of workers employment within the terminals (lost in this LAX/Metro Connector discussion is that those who work at/near LAX will likely be the #1 group of commuters who use the Crenshaw/LAX line). LAX is within the top ten job centers of Los Angeles.
Yet nearby Inglewood is also gearing up with respect to job creation and economic revitalization. LA World Airports made it very clear that any airport-owned property at/near the future CONRAC center at Manchester Square would absolutely NOT allow residential development, so air quality and environmental issues will be minimized from a health perspective.
This lack of environmental obstacles means that industrial and commercial centers can be built aplenty along Century Blvd. (which, after Downtown LA and Wilshire Blvd., is a potential third "downtown" that can serve as a magnet to tourists and industry. Hotels can grow and be rebuilt, and will likely develop their own transportation links to the APM.
Furthermore, the notion of a large mall to serve the northern adjacent region of Century Blvd. to attract further economic and job growth is also an exciting idea which deserves exploration and investment.
Airports throughout the nation and world perform a secondary function of sales and commerce to commuters waiting for their planes, and needing something quick to eat or purchase while on the go, and both LAX and the adjacent region are ripe for this associated job creation (and, of course, additions to the City/County coffers from sales taxes).
Which is why the failure of the City of Los Angeles to host the 2024 Olympics will not prevent the Metro/LAX rail connection and associated APM construction--rebuilding LAX also means rebuilding and upgrading Century Blvd. hotels and businesses, and with its own rail station at Century/Aviation, the City of Los Angeles will have a new commercial center for those who want to travel, work, stay, play...and shop.