Depressing new research on traffic-related pollution near schools is all the more reason to assign a proper price to car-reliance.
http://www.citylab.com/commute/2015/03/the-alarming-impact-busy-roads-have-on-cognitive-development/386947/
By Eric Jaffe, March 5, 2015
When we think of the
social costs of driving
, we tend to focus first on all the money and work productivity lost to traffic congestion, and second on all the lives lost to car crashes. But there are significant developmental impacts that occur as a result of the air pollution that accumulates along roadways, too. These can be harder to identify and quantify, but as
a new study
of Barcelona school children shows, they're every bit as alarming.
The work comes from a big research team led by Jordi Sunyer from the Centre for Research in Environmental Epidemiology in Barcelona. Sunyer and collaborators tracked the developmental progress of more than 2,700 kids age 7 to 10 attending 39 schools in the city. Some of the schools had low levels of traffic-related pollutants nearby, while others had high levels—shown in the map below: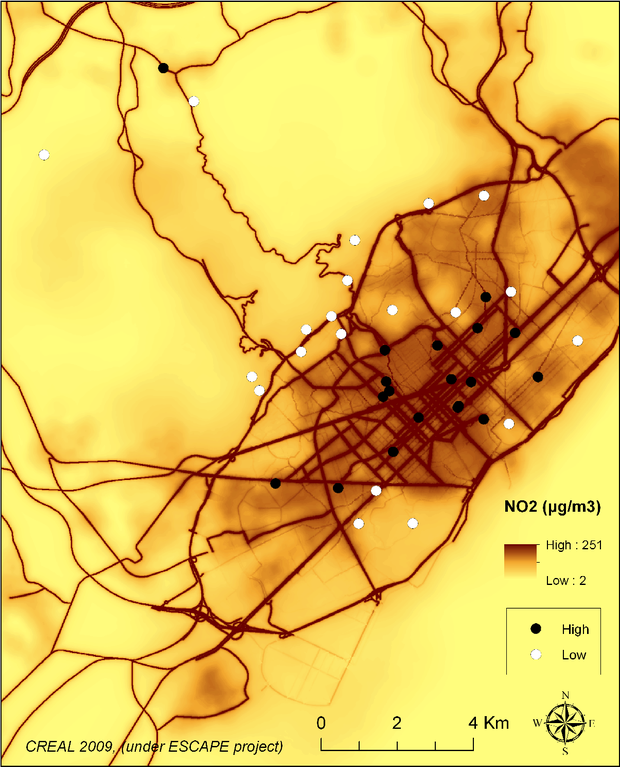 Once every three months for about a year, the children participated in an established working memory task known as the "n-back" test. The n-back tests your ability to retain items in a list and recall them on demand; in a 2-back test, for instance, you'd be asked to recall what appeared two items ago. For the current study, the test was conducted with colors, numbers, letters, and words.
Over time, all the children in the study scored higher on the tests, with working memory improving 19 percent on average. That's not surprising when you consider the general leaps in cognitive development that occur during early school years. But Sunyer's team found that this improvement followed different trajectories depending on whether a school was located in an area with high or low levels of traffic-related pollutants such as elemental carbon, nitrogen dioxide, and ultrafine particle matter.
At baseline, the difference in working memory for high- and low-pollution schools was about 5 points, the researchers report in
PLOS Medicine
. After a year, that difference had widened to roughly 10 points—a statistically significant gap. Whereas children from the high-exposure schools showed cognitive improvements of about 7.4 percent, those in the low-exposure schools improved about 11.5 percent in working memory.
These findings held up after accounting for factors like socioeconomics, school noise, education quality, residential air pollution, and smoking at home. In other words, while the researchers can't say for sure that road-related pollutants caused the cognitive impairment in high-exposure schools, every indication points to that connection. Here's their concerning conclusion:
Overall, we have shown that children attending schools with higher levels of exposure to traffic-related air pollutants had a smaller growth in cognitive development over time, suggesting that traffic-related air pollution in schools negatively affects cognitive development. This may have consequences for learning, school achievement, and behavior.

The new work adds to a long and growing list of developmental impacts tied to traffic-related air pollution (much of it
tracked here
by the Environmental Protection Agency). Other researchers have documented related decreases on
verbal and nonverbal tests
among American children, for instance, and a 2013 study reported that children with high exposures at birth showed increased
hyperactivity by age 7
. And it's not just children who suffer: studies have also found that road pollution might
"accelerate cognitive decline"
in the elderly, too.
But even as the evidence grows more definitive, the artificially low price of gasoline and driving still fails to acknowledge the
huge social costs of car-reliance
, especially in cities. Those costs have been estimated as high as
$3.3 trillion a year
, with traffic-related pollution a non-trivial chunk of that figure. If simply knowing that it's a bad idea to build high-volume roads near schools and neighborhoods isn't enough to discourage such development—which, evidently, it's not—then it's at least time that these decisions carried a heavy price.