http://thesource.metro.net/2015/03/12/zocalo-public-square-forum-the-car-is-not-dead/
By Steve Hymon, March 12, 2014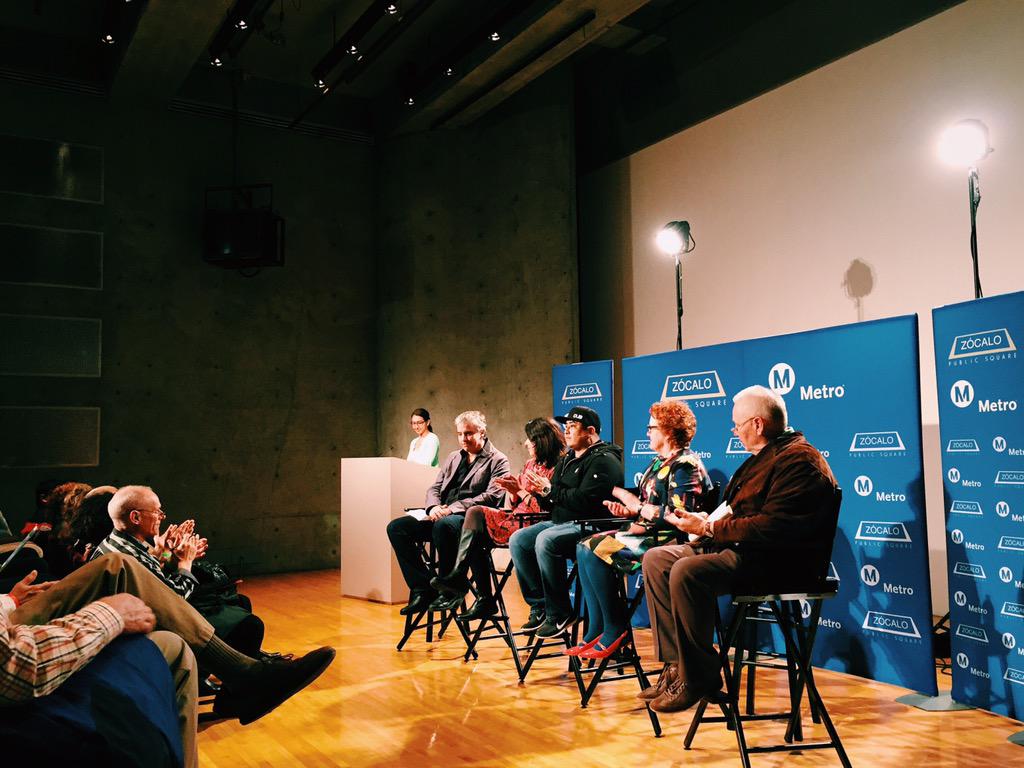 Go to website for the video.
As always, a fun forum last night at MOCA in DTLA from our friends and partners at Zocalo Public Square. The question assigned to the panel for discussion: is car culture dead?
The video is above.
Here's a link to the Zocalo article on the event, which
also includes a podcast
in the right sidebar.
See website for tweets.
A couple of excerpts from Zocalo Public Square's article on the event:
Don't sell your car just yet—but be prepared to get to where you're going in a lot of different ways. This was the conclusion of a discussion about car culture co-presented by Metro in front of a large crowd at MOCA Grand Avenue.
Automobile Magazine editor-in-chief Mike Floyd, the evening's moderator, offered a preview of what was to come by explaining how each panelist had gotten to the downtown L.A. venue: One person walked, one took the bus, one mapped out the side streets, and another drove—and got caught in traffic. [snip]
DUB Magazine founder Myles Kovacs said that he thinks millennials are car-averse not because of the environment but because of financial issues—they've seen their parents struggling with car payments and gas—and because of shifts in technology and culture. They don't need cars to drive to friends' houses when they can talk online instead. They don't want to be like their parents. And they're less independent than previous generations.
But there still is enthusiasm for cars out there. Petersen Automotive Museum executive director Terry Karges said that the Forza Motorsport driving game has 43 million Xbox subscribers and 200,000 to 300,000 players at any given time of day. And people around Los Angeles continue to get together around the cars they own and love, whether they're Porsches or Ferraris or British cars. You also still have people buying basic, functional cars, he said. But "a Camry isn't necessarily something you would join a club to adore," he said.
As would be expected, one of the panelists made a very good point: transit is hardly ideal if you're a grandfather and need to drive all over So Cal each weekend to see the various grandkids play sports.
That's correct. And that's also besides the point. The idea behind transit is not to replace every single car trip. It's to provide an alternative to some of them — and provide mobility to those who don't want to drive, can't drive or may not have the means to drive.
All this is the reason why I don't write that you should give up your car. That's your choice. That said, I have no problem writing that perhaps you can leave the car parked some of the time and try a different way of getting around! :)