Rising ridership plus aging infrastructure minus federal funding is a formula for crisis.
http://www.citylab.com/commute/2015/11/americas-top-transit-systems-face-a-102-billion-repair-backlog/415590/
By Eric Jaffe, November 12, 2015
America's highway are in terrible shape, but when it comes to
this maintenance crisis
its aging transit systems can give U.S. roads a run for their money. A run worth about $102 billion, to be precise. That's the estimated repair backlog facing nine of the country's largest (and oldest) transit providers, according to a
new report
by the Regional Plan Association.
RPA's analysis considered rail and bus systems in nine major metro areas (below) that altogether account for 27 percent of the country's GDP and 21 percent of its population on just 2 percent of its land. Transit ridership has grown steadily in these areas for years. Together they now capture more than three-quarters of all U.S. transit rail trips, in particular.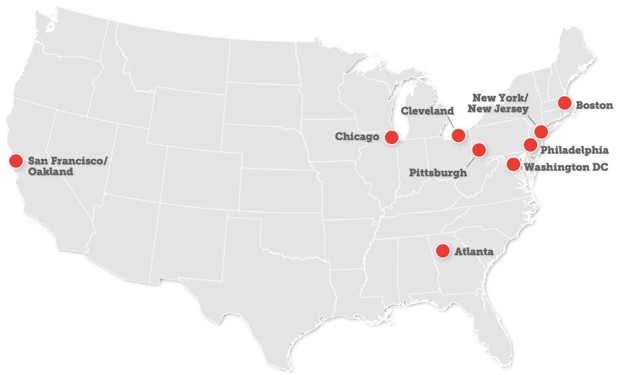 But even as usage for these systems has soared, investment in them has lagged. All told their maintenance backlog for capital transit assets—things like tracks, storage yards, power systems, stations, and vehicles—comes to $102 billion by RPA's calculations, plus another $13 billion a year for "normal replacement needs." (Since these figures don't include New Jersey Transit, the true totals are actually much higher.)
That's a huge problem for the future; here's RPA:
Decades, and in some cases more than a century, of heavy use
has caused significant wear-and-tear, in addition to the impact of natural elements and other weather events. … Many of their assets are now beyond their useful life and the agencies are approaching a tipping point at which unfunded capital needs will overwhelm their ability and capacity to operate high-quality transit service.

The prospects for righting the situation are equally bleak. In 2013, for instance, the transit agencies represented in RPA's analysis only received about $7.3 billion in funding for capital expenditures, with just $6 billion of it going to system preservation instead of expansion. That's just a fifth of the $30 million a year that RPA thinks these systems need to get back on track (so to speak), assuming a six-year funding bill.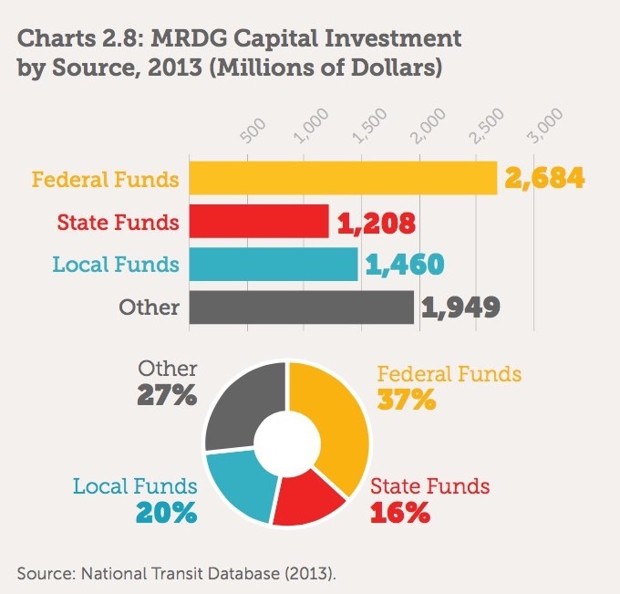 Neither long-term surface transport plan being considered in Congress right now comes anywhere close to this figure. The House bill calls for
$55 billion
in transit funding over six years; the
Senate bill
does slightly better, escalating toward $12 billion a year. (Not that there's money
to pay for
such legislation.) RPA concludes with a reminder of what's at stake:
Inadequate levels of federal funding for transit state of good repair needs has significant consequences in terms of achieving our national transportation, economic development and sustainability goals. It also has negative impacts on the metropolitan regions where a large proportion of U.S. companies do business, and residents and workers live, including some of the most disadvantaged populations.