http://citywatchla.com/lead-stories-hidden/10082-la-s-transpo-evolution-some-good-some-bad
By Ken Alpern, December 11, 2015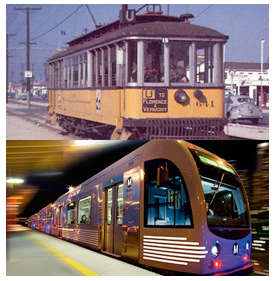 TRANSPORTATION POLITICS--Compared to the world of the 1990's, and even compared to the year 2000, LA City and County have made considerable progress towards confronting, consensus-building, and construction of transportation projects. No longer is this priority being shunted to the side, and no longer are our elected officials ignoring the problems inherent in transportation and related infrastructure. But there are problems ... big problems.
To be sure, the wind is much more on the backs of transportation advocates than it was 10-15 years ago, when marching uphill against the wind was the order of the day for anyone who dared bring up infrastructure.
Former President Bill Clinton was probably the greatest champion of this priority over the past several decades, but he had to face a Congress filled with Republican non-spenders and Democratic over-spenders--the former who ignored transportation/infrastructure and the latter who would spend on transportation/infrastructure ("T/I") only after other priorities and their lobbyists were "fed" first...leaving precious few dollars for transportation.
Yet the word got out, slowly but surely, that the voters wanted both parties to spend more on transportation/infrastructure and less on other priorities. Certainly the liberals wanted less military spending and more taxes, and certainly the conservatives wanted less social welfare spending and a budget neutral process.
But the answers lay somewhere in-between, because more spending but appropriate revenue-raising, and more responsible spending for government in general will both allow for better transportation funding in the federal budget as well as better make the case that a gas tax, or a sales tax, or some other form of revenue raising, will be accepted as a way for voters to see a better 21st Century America with respect to "T/I".
Certainly, LA City and County have led the way with respect to transportation funding--they've taxed themselves at the county level multiple times and are embarking on one of the greatest transportation spending works in American history. And to some degree, Los Angeles has both inspired and shamed Washington (and Sacramento, to boot) to get to work in rebuilding transportation/infrastructure strength here and throughout the nation.
The Expo Line, once a project that will "neeeeever happen" in the Westside, is entering pre-revenue train testing all the way from Culver City to Santa Monica in mid-December (that's like...now) and transfer of the Expo Line from the Expo Construction Authority to Metro is under way.
The San Gabriel Valley is no slouch, either, despite being given short shrift by the rest of the county (particularly Downtown leaders) for far too long, is on its way to a Foothill Gold Line that will open before the aforementioned Expo Line, and will almost certainly someday find the funding to build it all the way to Claremont.
And that LAX-Metro Rail connection that has proven elusive for so many decades? It's gonna happen, as sure as Mayor Garcetti and LA County wants a 2024 Olympics. The Crenshaw/LAX and Downtown Light Rail Connector lines will be build well before 2024, as well as the first phase of the Wilshire Subway to La Cienega.
Even the long-fretted 405/101 intersection and 405 widening projects are in our rear-view mirror, although the era of big freeway projects are done being built in the center of the county for now.
Similarly, the I-710 North project, which includes a tunnel under South Pasadena is being shunted aside for environmental, political, and fiscal reasons. The congestion and pollution benefits weren't there, and the EIR has been roundly attacked by all sides. Certainly the repair and renovation of the I-710 south project between the ports and Downtown has support overall, but the funds for the South Pasadena tunnel will go somewhere...else.
But the biggest problems remain both financial and political. Will our recession cycle commence again (hate to say this, folks, but world events and economic reality dictates we're due for another downturn of some sort), and will that affect federal and state funding for transportation? Will we need more money shunted to military endeavors if the world catches fire (as it frighteningly appears to be doing)?
More importantly will that oh-so-pesky pension problem, and the manner in which public sector unions--led by hyperpartisan, hyperlobbying cretins who live in their own little bubble of a universe where the taxpayers are bottomless ATM machines--destroy the ability of the City (and its voters) to ensure proper transportation funding and budgeting ...
... and threaten support of City residents to pass Measure R-2 if they see their taxes (AGAIN!) go from the roads, sidewalks, rail projects, DASH lines, buses and bicycle paths they've wanted their money to go to for years.
Decades, even.
The leadership of Eric Garcetti and Mike Bonin for LAX reconstruction and Metro Rail/LAX connections? Great.
The leadership of Mike Bonin for a sweeping parking reform package? Great.
The ability of Eric Garcetti and Mike Bonin to get past the dunderheads who think that the pension crisis is anything but a crisis? Not so great, although Garcetti and Bonin have to be both pressured and pitied that they've got such an uphill climb on this issue.
So we've got a lot to crow about with respect to transportation...but the possibility that the wind will cease to be at our backs with the unhappier potential winds of change to come bodes ill for a mobility/infrastructure effort in a City and County of LA that still hasn't recovered fully from the Great Recession of 2007-09.